Do Heat Pumps Work In Chicago?
You have probably heard that heat pumps are the most effective and efficient HVAC technology available today. But if you have lived in Chicagoland during February, surely you might be wondering: Do heat pumps work in Chicagoland? Are they really going to keep my house warm during the unforgiving Chicagoland winters?
In a nutshell, the answer is yes, especially the Mitsubishi mini-split systems. Today's heat pumps are more than capable of withstanding Chicagoland's severe winters – or any freezing Midwesterner winter, for that matter.
Heat pumps are used successfully as far north as the Arctic Circle and are incredibly popular in countries such as Finland and Norway (two areas that are no strangers to the cold, long winters!). In the Midwest, using heat pumps makes sense because they are three times more efficient than typical heating systems.
Finally, there is nothing a Chicagoland winter can hurl at you that today's heat pump technology can't manage.
When it comes to heating and cooling your Chicagoland home, a heat pump's all-in-one efficiency is not easy to top. Look no further than your neighborhood HVAC specialists at Eco Temp HVAC for quick heat pump repairs and new system installations.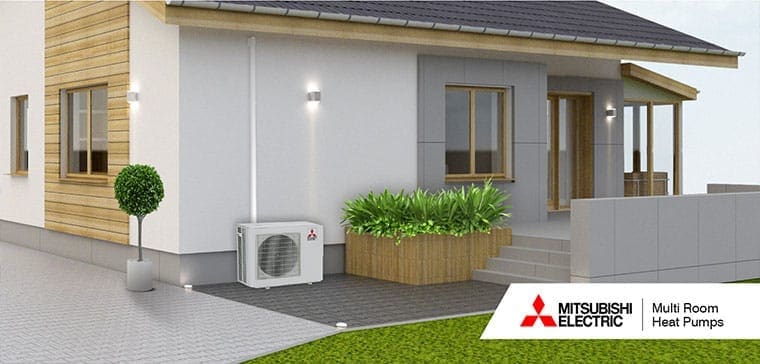 Heat Pump Repair Experts in Chicagoland available day or night, 24/7
A heat pump's year-round adaptability is quite beneficial, but it does come with a few downsides. An unexpected malfunction, for instance, can leave you with neither heating nor cooling. As a result, knowing where to turn for timely, competent repairs whenever you need them is of critical importance.
Eco Temp HVAC is the place to go if you live in the Chicagoland area. We are ready to dispatch our professional, NATE-certified service technicians day or night, 24 hours a day, 7 days a week. We employ high-quality units and take pride in our precise workmanship, which is why we provide unrivaled heat pump repair guarantees.
Why do heat pumps in Chicago work so well?
To understand why heat pumps are such an excellent fit for the Chicagoland environment, you must first grasp how they function.
How heat pumps heat (and cool) your house
The most important thing to understand about heat pumps is that they do not generate any heat. Heat pumps, on the other hand, work by moving heat from one location to another.
In the winter, a heat pump absorbs heat from the air in your outdoor surroundings (since heat energy exists even in very cold air) and delivers it into your home.
In the summer, it reverses the process, transferring heat energy from inside your home to the outside.
Heat pumps waste less energy because transporting heat energy is significantly more efficient than producing it from "thin air" – no pun intended.
They can heat and cool your home while consuming up to 66% less energy than a standard HVAC system.
This is a game changer when it comes to enhancing the energy efficiency of your home in the Chicagoland area.
It also means that a heat pump may replace both your heater and your air conditioning system, which is especially important in Chicagoland, where the weather can fluctuate drastically between extremes.
That all sounds nice, doesn't it? However, you must ensure that a heat pump will keep your Chicagoland home warm when temperatures dip.
While the weather in Chicagoland can be harsh at times, there are days when you may not need to use your air conditioner or heating system to make your home comfortable. On days like these, heat pumps can effectively warm or cool your home while lowering your energy consumption. Eco Temp HVAC can help you whether you need a new heat pump or repair or maintenance services to keep your current one working. We have been offering the following products and services to the area for over 6 years:

Heat pump Repair solutions that work
Just because your heat pump is not working properly does not mean you have to install a new one right off the bat. Our professionals at Eco Temp HVAC can smoothly assess and fix the problem at your home. We can have your unit back in working condition in no time with a long-lasting heat pump repair.
Heat pump installations provide year-round comfort
When you visit Eco Temp HVAC for new heat pumps, you may choose from a wide range of high-quality options. Rely on our HVAC professionals' knowledge to help you pick the best fit for your energy-efficiency goals and budget. After selecting your unit of preference, you can sit back and relax as our highly skilled experts install your heat pump quickly and efficiently.
Regular Heat Pump Maintenance
Heat pumps can deteriorate over time, but you can help extend their lifespan by performing routine heat pump maintenance. Our technicians have the skills, experience, and knowledge to examine, clean, and maintain your current heat pump, allowing you to avoid purchasing a replacement unit for as long as possible.
Inquire about our heat pumps and services
Regardless of which of our services you choose, you can rest assured that your project will be in good hands with Eco Temp HVAC. Pick up the phone and chat with one of our skilled call representatives to learn more about the benefits we provide. You may also receive your free project quote by filling out our simple online form.
Heat pumps are becoming more widespread in our area, which is fantastic! After all, they are incredibly efficient, convenient in practically every way, and more effective than alternative heating systems. Call Eco Temp HVAC to discuss your heat pump choices in Chicagoland, IL.
We offer 24/7 emergency heating repairs
We offer exceptional "best in class" heating installation services
We operate with honesty, openness, and a 100% satisfaction guarantee on every task
We can help you whether you need fast heat pump repair or want to discuss whether a new one is best for your home.
Ductless Air Conditioning & Heating
Ductless air conditioning & heating units are becoming more popular with Chicago homeowners as they realize that there is an easier and greener way to cool their homes. You don't have to sacrifice comfort or style when it comes time for an air conditioner replacement. Ductless Mini Split Systems are less intrusive than traditional ACs and provide zone comfort solutions for homes that have different temperature preferences.
Call (224) 253-8131 to reach the pros at Eco Temp HVAC today to schedule your no-hassle, no-obligation consultation!
Explore More Heat Pump Options
Explore Heat Pump Options
Discover our wide array of heat pump options. Perfect for any home, these energy-saving devices provide ideal heating and cooling while lowering your energy bills. Explore our heat pump selection today and improve your home's comfort effortlessly.
Can A New Heat Pump save money?
Short Answer: Yes, a new heat pump can significantly save you money on energy costs.
Long Answer: Heat pumps are innovative solutions for both heating and cooling your home, and they often cost less to run than a traditional air conditioner and furnace combo.
Here's how: Heat pumps operate on the principle of heat transfer, not heat generation. In the summer, a heat pump cools your home by moving heat from inside your house to the outside. Come winter, the process reverses – the heat pump extracts heat from the outside air (yes, even in cold weather, there's heat to be found!) and moves it indoors to warm your home.
In contrast, a traditional AC and furnace setup uses more energy. This is because the furnace must produce heat, usually by burning fuel, which requires more energy.
By upgrading to a heat pump, you can optimize your home's heating and cooling efficiency and potentially lower your energy costs. If you're looking for a smart, cost-effective solution for home comfort, a new heat pump may be the perfect choice for your home.