Eco Temp HVAC is your one-stop shop for all of your furnace needs in Chicago & Lemont, IL.
Furnaces make for a warm and inviting home throughout the bitter Chicago winters. Therefore, it's critical that you maintain yours by reaching out to a reputable heating company, like Eco Temp HVAC, whenever you need it serviced. We've offered the community of Chicago & Lemont, IL exceptional furnace services and products for more than a decade.
Efficient New Furnaces
Quick Furnace Repairs
Furnace Installation Experts
Furnace Maintenance for Long-lasting use
High-Efficiency Furnaces
Efficient New Furnaces
We offer unbeatable prices and high efficiency – help save money on your energy bills with our brand-new furnaces.
We provide a wide range of high-quality new furnaces designed with upgraded technology that results in lower energy bills – whether you've just constructed a new house or your old furnace is beyond repair.
With our new furnaces, you can save on utility bills and reduce your carbon footprint. It's an environmentally friendly way to stay comfortable all year round.
Our specialists can help you make the best choice with consideration of your budget, home size, and energy goals. The best part is that we offer expert furnace installation services in Chicago & Lemont, IL along with all of our products.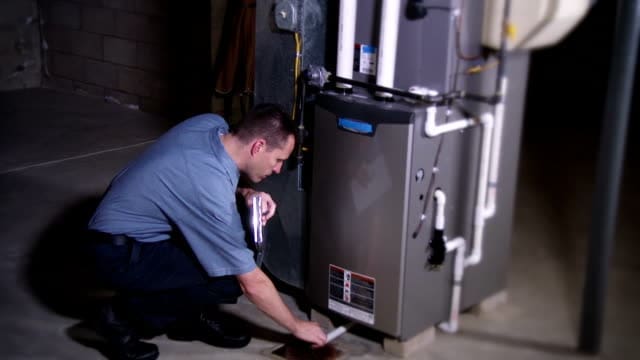 Quick Furnace Repairs
Get a quick furnace repair no matter how big or small the problem is. If your furnace isn't working the way it should, don't worry! We offer fast, affordable furnace repairs that will get your system up and running in no time.
On the coldest day of the year, a faulty furnace can leave you with frozen pipes and a disgruntled family. Fortunately, Eco Temp HVAC offers same-day service and is accessible 24/7 for your convenience. So, we can swiftly visit your home and fix your furnace no matter what time of day it is.
Furnace Installation Experts Chicago & Lemont, IL
Who better to install your new furnace than experts who have been in the industry for over a decade? We take care of every detail from start to finish. Eco Temp HVAC takes pride in the final product and knows that the key is professionalism, quality, and precision.
We know that installing a new furnace is a big decision and a tough process – that's why we're here to help! We'll walk you through each step of the installation process, so you always feel confident in our work.
We can offer you rapid and effective furnace installation services as part of Eco Temp HVAC's dedication to quality for your HVAC needs, ensuring that you'll never be left freezing in the cold. Quality will never be sacrificed for speed, even though we may work fast to get your system back up and running. We constantly take the time to make sure our products will work and use energy as efficiently as possible.
Furnace Maintenance for long-lasting use
If you don't do routine maintenance on your furnace, you can go without heat in the middle of the winter and end up needing inconvenient and costly emergency services. Regular furnace maintenance isn't something homeowners should do on their own; instead, trust our expert professionals to complete it safely.
High-Efficiency Furnaces
With our wide range of high-efficiency furnaces, you're sure to find one that suits your needs. If you're looking for quick installation or just want to learn more about our high-efficiency furnaces, contact us today!
Get the best heating and cooling solutions in the Chicagoland area!
Eco Temp HVAC is a full-service HVAC company that provides only the best. From heating and cooling solutions to cutting-edge HVAC products, we have everything you need.
Are you looking for furnace repair experts? We have trained, licensed, and experienced technicians available 24/7 to provide same-day repairs – with no extra fees or hidden costs.
Efficient and sustainable homes
Eco Temp HVAC is a family-owned business that has been in the heating and cooling industry for years. We want to make a difference in the lives of homeowners by installing highly efficient HVAC products and superior services.
Eco Temp HVAC provides Chicagoland with heating and cooling products and services using the latest technologies that are efficient, affordable, and environmentally friendly. But why consider us?
Newer is not always better
At Eco Temp HVAC, we're here to help you understand your HVAC options so you can make an educated decision. Whether you're upgrading a current old furnace or looking to install a new one, we'll take the time to find out what your needs are and help you make a decision that's right for your home – not just right for today.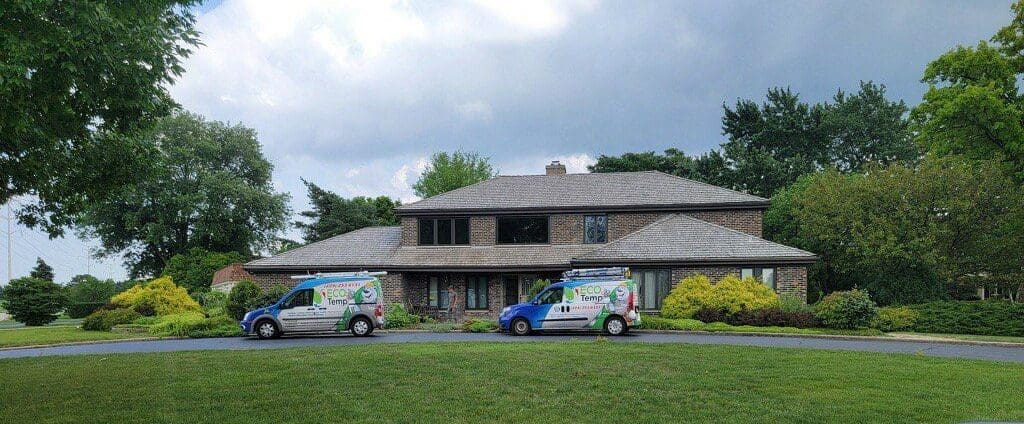 Superior service & quality products
We start with superior service and quality products in order to provide our customers with the best experience possible. That's why we offer new furnaces from the top brands in the industry at competitive prices, along with prompt installation services from experienced professionals who know how to get it done right – on time and on budget.
Eco Temp HVAC has been providing quality HVAC services for more than a decade now, so you can rest assured knowing that no detail was missed when it comes to your installation or repair needs.
Final Thoughts
We offer our customers highly efficient HVAC products that provide superior services. We pride our company on always providing quality work to all of our customers.
We're experts at installing furnaces for residential homes in Chicagoland. With our help, your new furnace will be installed quickly and efficiently.
Learn More About Our High-Efficiency Furnaces
Our high-efficiency furnaces are the best in the industry and provide many benefits including increased energy efficiency, increased comfort levels, and increased safety.
Feel free to get in touch with the experts at Eco Temp HVAC if you want to learn more about the benefits of our products and services. Call us to discuss your needs with one of our specialists, or fill out our short online form and we'll contact you with a free, no-obligation estimate.
Explore New Furnace Options
Eco Temp HVAC loves using American Standard furnaces and here's why:
American Standard has been a trusted name for over 130 years, making top-notch furnaces that keep your home cozy without giving you a headache. They're really reliable, which means you won't be calling us for repairs all the time.
Plus, their furnaces are designed to be energy savers. That's great news for you because it can help lower your energy bills.
And the best part? American Standard furnaces come in all shapes and sizes. No matter what your needs or budget are, we at Eco Temp HVAC can find the perfect American Standard furnace that's just right for you. Isn't that exciting?
Can New a New Furnace save me money?
Thinking about getting new HVAC equipment? Here's how it could be a real game-changer for your wallet:
First up, new equipment comes with the latest energy-saving technology. This means it runs like a dream, keeping your home perfectly comfy and cozy. And the best part? It can seriously help lower your energy bills.
What's more, with the newest tech, breakdowns and repairs become a rarity. That's fewer headaches for you and more money in your pocket.
Now, for the cherry on top: when you get your new HVAC equipment with Eco Temp, we give you a 2-year labor warranty. And that's not all. American Standard, our top pick, provides a whopping 10-year worry-free parts warranty. Plus, we even handle registering your warranty with the manufacturer for you. This combo gives you the ultimate financial security and peace of mind. Sounds pretty fantastic, doesn't it?