Furnace Maintenance is Like an Oil Change For your Car
Most homeowners have a strict maintenance schedule to keep their homes clean and their landscaping maintained, but despite their efforts, they may be forgetting to care for one very important aspect.
If you have a furnace, it should be part of your yearly maintenance schedule, also known as furnace clean and check or furnace tune-up. Furnace maintenance is necessary at least once a year, but it is especially critical before winter.
Why Is Furnace Clean & Check Important?
While heating your home, your furnace collects a lot of harmful materials. The normal furnace accumulates dirt, dust, and other particle matter and debris.
Unless you maintain a regular furnace tune-up, you are allowing damaging particles to spread all over your house.
This can lead to a wide variety of health concerns. Because your air ducts are not properly cleaned, you may become less immune to colds, viruses, and germs.
This can be especially aggravating for individuals with asthma, allergies, or breathing problems.
Particulate matter can easily irritate the already sensitive lungs. Enough dust, dirt, or dander can quickly set off asthma or allergy attack.
An unclean furnace reduces indoor air quality, and poor indoor air quality can hurt you even if you do not have allergies or other health issues.
Aside from potential health concerns, ignoring furnace cleaning might have a negative impact on its performance. If a furnace does not get the right clean and check, it may not heat your home as evenly or as powerfully as it used to.
When Is It Time to Clean Your Furnace?
Now that you know its necessity, you are probably asking about the best times to get your furnace cleaned and checked.
Unlike other parts of your home, your furnace will not require weekly or even monthly cleaning. The best times to have your furnace cleaned are before and after winter.
It is critical to have your furnace cleaned before the winter season begins. You will be able to remove any dirt, dander, or other particle matter accumulated over months of use.
If you hire our Eco Temp HVAC technicians, they can also inspect your furnace for other functional issues. They can detect problems before they become too big to manage and advise you on maintaining your furnace working at top efficiency.
It is also a good idea to have your furnace cleaned and checked after the winter. This way, you can clear away all that has accumulated over the winter.
You will also be able to check whether there are any major repairs that need to be made before the next winter.
It is preferable to make necessary furnace repairs in the spring when you do not need them than to discover a problem in the middle of winter.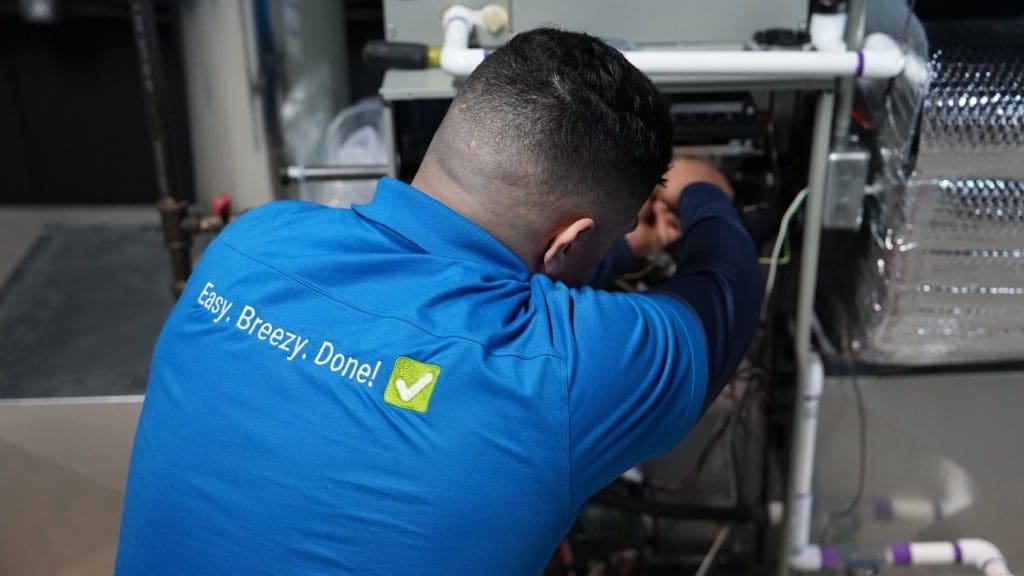 Signs You Need a Furnace Tune-Up
Even if you follow a regular maintenance schedule, there may be instances when you need to clean your furnace again.
If you want to keep your furnace clean and working efficiently, call our experienced Eco Temp HVAC technicians as soon as you notice these problems.
You just moved
You had an inspector come out and inspect your house before you moved. However, when they checked your home, they probably did not pay much attention to your AC units or furnace.
When you relocate, make sure to have your furnace cleaned. You don't know how well the former renters treated their furnaces, and you don't want a furnace that's full of dirt and other debris.
If you negotiated well with them, you might even be able to have someone come out and clean your furnace before you have to move in.
The airflow does not feel right
Do you have the impression that some portions of your home never seem to heat up fast enough or keep their warmth? Do you notice that the airflow is uneven in some areas?
Heating issues are sometimes caused by insulation, among other unrelated problems to your furnace. But, more often than not, the issue is within the furnace itself.
A simple furnace clean and check could fix that heating and airflow problem. Before you do anything radical, give your furnace a thorough clean and check.
There is water in the ducts
You've recently replaced the filters throughout your home, and you have noticed that some of them are slightly damp. When you look within the ducts, you may see visible water beads.
Moisture is never a good sign in a heating system. If you notice water on the filters or in other places of the ducting, you should get a furnace tune-up immediately otherwise it may turn into a health hazard.
The presence of water in the ducts might cause mold growth – which in turn may cause a slew of health problems and may even reduce the value of your property.
6 Signs your furnace needs to be repaired
Cleaning your furnace can help with multiple complications, but it cannot solve all of them.
Do you believe there is a problem with your furnace? If you encounter any of the following issues, contact our Eco Temp HVAC professionals:
You notice water accumulating around your furnace
You smell gas or something else weird
You hear thumps, bangs, or scrapes
Your thermostat needs to be cranked up or down for the heat to come on.
Your heating bills skyrocket fast
Your furnace is blowing cold air

Explore More Heating Options