Looking for tankless water heater services? Call on Eco Temp HVAC!
Are you considering an upgrade to a tankless water heater? This alternative to a bulky water tank that reheats water over and over again saves valuable floor space while still meeting your hot water needs. The equipment is quiet and lightweight, cuts operating costs greatly, and normally lasts roughly twenty years. Eco Temp HVAC provides services ranging from repair to replacement and installation.
Call (224) 253-8131 or fill out our quick online form, and one of our expert technicians will help you decide which system is best for your home.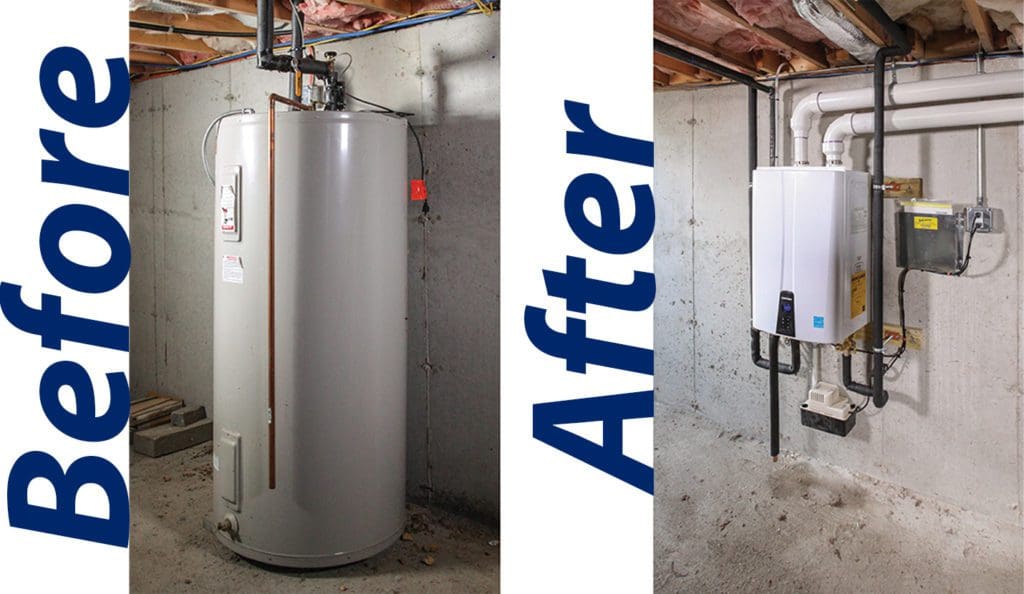 What are tankless water heaters in Chicago, IL?
Tankless water heaters do not use a tank to store hot water. Tankless water heaters in Chicago heat water only when needed. Low-cost, quick, and efficient – tankless is the way to go! They aren't necessarily the ideal option for every home or business, though, because of the varying needs for hot water.
A tankless water heater is a great investment if you need less than 40 gallons of hot water each day. A traditional tanked water heater is the superior option if your daily hot water use exceeds 40 gallons.
Are you considering a tankless water heater replacement for your home? Call (224) 253-8131 or contact us online, and our professional technicians can help you choose the best system for your home.
How would our tankless water benefit you?
#1 you'll have less spending in the long run.
The tankless water heater's fast heating feature will save you money in the long term, offsetting the higher upfront cost of the device and the labor to install it.
#2 Longer lifespan
Because they operate more efficiently, tankless water heaters can have a lifespan that is nearly double that of traditional water heaters.
#3 Less storage space
Tankless water heaters are more compact than conventional models, so you won't need as much room in your garage or another storage area.
#4 No shortage of hot water
Water is heated instantly as needed, so you don't have to worry about running out while it slowly heats back up. This will allow you to run many showers or other appliances at the same time without worrying that one of them may go cold.
Signs it's time to upgrade to a tankless water heater in Chicago, IL.
Occasionally, tankless water heaters require replacement due to breakdown. If that happens to you in Chicago, call us to have a tankless water heater installation done right away. However, it isn't always obvious when it's time to start looking for replacement services. This is why we have compiled the following list of issues related to water heaters, as identified by our experts. In Chicago, a tankless water heater replacement is warranted if the existing unit shows any of the following signs:
You've had your water heater for 10-15 years.
You've been calling us for repair work several times every year.
You're looking to switch to a more energy-efficient model.
Your water heater can no longer meet your family's needs for hot water.
Chicago tankless water heater installation and repair services
Tankless water heaters are no different from any other appliance in that they will eventually need to be fixed. There are several warning signs that indicate you may soon need tankless water heater repair in Chicago, IL:
When you hear scraping, popping, or grinding sounds coming from your hot water system, it's time to call the experts at Eco Temp HVAC.
Rusted inlet/valve: A sign of a more serious issue is rust on the pressure relief valve or in the area around the water inlet. Damage from rust on a water heater can be extensive, typically requiring a new unit.
Water is leaking from the unit: As the end of your water heater's useful life approaches, you may find pools of water forming on the floor around the tank. This is a red flag for leaks that could cause serious structural damage to your home if left unchecked.
If you live in Chicago and have decided to get a tankless water heater, congrats! This is a major move toward making your home more energy efficient and securing your financial future. The next step, after purchasing the unit, is to have a professional HVAC company set it up for you. Good plumbers are hard to find in Chicago, IL, but you can count on Eco Temp HVAC.
For all your tankless water heater needs, call (224) 253-8131 or contact us online for quality tankless water heater care.
Chicago tankless water heater maintenance 
Need service for your tankless water heater in Chicago, IL.? Our water heating and tankless service professionals in the Chicagoland area have years of expertise working on high-efficiency tankless systems like yours. Eco Temp HVAC has service cars on call that are fully stocked with the tools and supplies necessary to get your tankless water heater up and running again. We offer tankless maintenance and maintenance agreements to keep your tankless water heater functioning in as smooth a manner as possible. You can count on Eco Temp HVAC to provide sound advice and to complete quality work on time. Contact us today to learn more about maintenance agreements for your high-efficiency tankless water heater.
Contact us online or call (224) 253-8131 to speak with Eco Temp HVAC's team of professionals today about your Chicago home's tankless water heater.
Schedule Your Tankless Water Heater Installation
At Eco Temp HVAC, the complete satisfaction of each of our Chicago customers is the top priority. We refuse to cut corners with any aspect of our work, and all the details will be taken care of. We're committed to offering great customer service at all times. Our goal is to earn the trust of our customers so that we can continue to serve their needs. Your best interests will always be respected.
Explore More Water Heater Options