Full AC repair service available 24/7, day or night.
We deliver fast and affordable solutions to repair any AC system – with guaranteed service!
AC Service
When the temperature outside soars during the hot summer months in the Chicagoland area, you need your AC system to kick into high gear and keep you comfortable. Whenever you need them, the AC repair technicians at Eco Temp HVAC will be there to provide you with timely and high-quality services. You can rely on us for all your AC needs because of our highly skilled technicians, cutting-edge equipment, and affordable prices.
Signs You Need Emergency AC Repair in Chicago
Some AC issues are inconvenient but can be fixed during regular business hours. Others are more pressing and require immediate attention. Here are the most typical issues that need emergency AC repair from Chicagoland's best HVAC company, Eco Temp HVAC:
The air conditioner isn't working:
Before calling Eco Temp HVAC:
Check whether or not your AC unit is receiving power.
Check for tripped circuit breakers and make sure the outside condensing unit is plugged in.
Turn the thermostat to "cool" and watch what happens.
If this does not work, contact our emergency AC repair professionals to get your AC system in good working order.
The AC is turned on, yet the air feels lukewarm:
Set the thermostat to "auto" and turn down the heat. Wait for your AC system to turn on; if the air exiting the supply registers still feels warm, contact our AC repair service.
The air conditioner turns off too soon: This could indicate that the equipment is overheating, preventing it from completing a full cycle before the failsafe kicks in and turns off the AC.
The AC has an unusual odor or sound:
These symptoms, ranging from unpleasant or musty scents to grating or screeching sounds, indicate something is wrong. Turn off your air conditioner and give us a call immediately!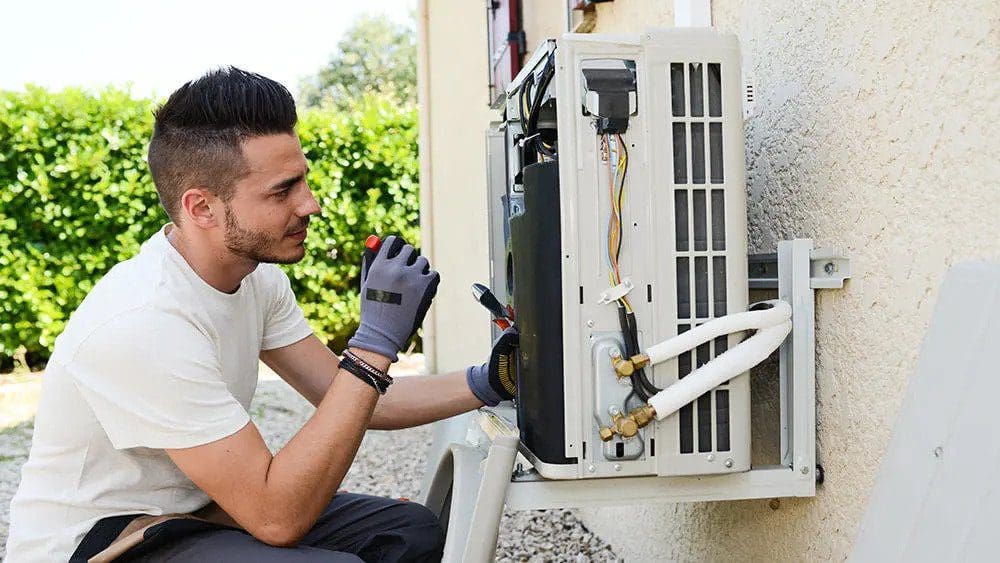 Chicago Air Conditioning Repair Services
When it comes to AC repair, don't trust a company that doesn't specialize in HVAC. At Eco Temp HVAC, we're proud to be Chicagoland's premiere HVAC systems specialists. You deserve quick, hassle-free service from highly trained technicians who will take care of your problem quickly. Our team is here for you!
Have you been noticing your AC isn't as cool or chilly? It could be time for an upgrade! Call Eco Temp HVAC, and we will get that system running like new again. You can rest easy knowing that our technicians are the best in their field. They will assess, diagnose, and locate any problems with your cooling system so you don't have to worry about a thing!
AC repair from a top-rated HVAC company
When it comes to AC repair, you should work with a company that has an outstanding reputation for providing service that will solve your problems once and for all. That's what you get from Eco Temp HVAC, Chicagoland's most trusted HVAC service contractor, offering AC repair solutions.
Our AC repair services cover the whole range of household needs, regardless of your unit make or model, and we provide the following:
Emergency Service: Our staff is available 24/7, day or night, and we respond immediately to take care of your problem when you need us.
Timely Repair Options: In addition to emergency AC repair, we offer same-day appointments and quick solutions to reduce your system's downtime.
Guaranteed Quality: Eco Temp HVAC offers a Lifetime Repair Guarantee on all service work.
Experienced Technicians: Every Eco Temp HVAC technician is certified, licensed, and highly trained to ensure you get the best service in the Chicagoland area.
Repairs, tune-ups, installations, and more
For award-winning HVAC services, Schedule Your Chicagoland AC Repair Service With Us Today!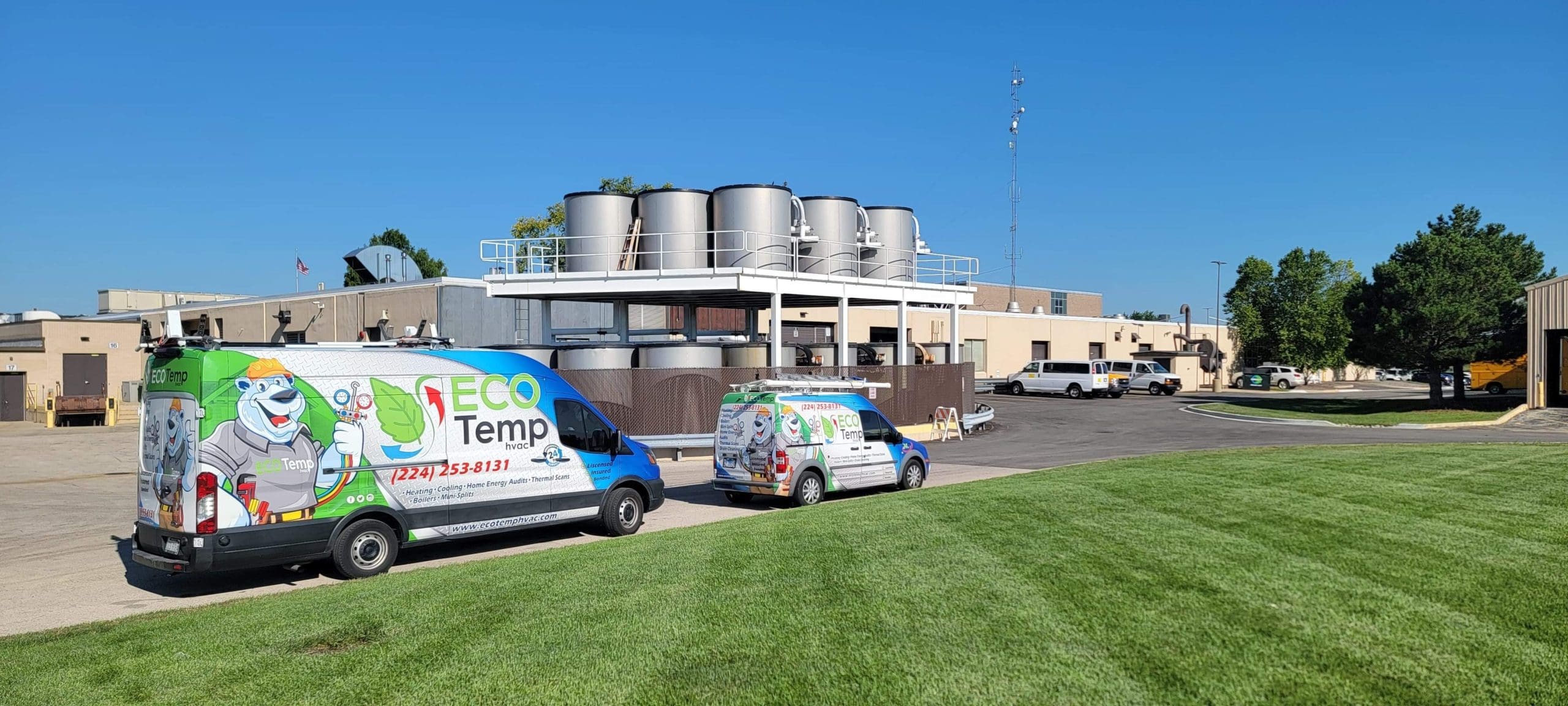 AC repair
We provide AC repair for all makes and models in Chicagoland, 24/7, day or night. Our NATE-certified professionals will do their very best to bring life back into your AC unit.
AC maintenance
Your air conditioner will work more efficiently this summer and be significantly less likely to break down with a professional tune-up. Schedule your seasonal air conditioning tune-up to have our technicians evaluate your system.
AC installation
Do you need a new cooling system before the summer? We can assist you. Our company is an American Standard Factory-Authorized Dealer, and we install high-efficiency air conditioners.
The cost of repairing an old air conditioner is often more than what it would take to buy a new one. You might save yourself some grief and money in the long run by purchasing something newer, which has many advantages, including increased comfort with better energy efficiency! Our AC pros are here to help you pick the perfect AC for your home and your wallet.
Cooling systems are vital for any home, but choosing the right company can help you achieve temperature uniformity and lower electric bills. Our expert AC installation services have you covered every step of the way.
Is your home getting warm? Please contact us. We provide quick and reliable AC repair in Chicagoland.
We provide emergency support 24/7, day or night.
At Eco Temp HVAC, we believe in doing the right thing for our customers. As a result, we back all of our work with a 100% satisfaction guarantee. Besides, we don't charge extra for service at night or on weekends when you sign up for our Eco Max Program. Collaborate with a team that is committed to treating you like royalty. If you're experiencing AC troubles, contact us right away for Chicagoland AC repair.
Available 24/7, day or night. With no extra fees.
Contact us for a straightforward AC repair done in a few easy steps!
Chicagoland's most reliable AC repair service
At Eco Temp HVAC, we're known for providing exceptional AC services in Chicagoland, including 24-hour AC repair! Thousands of local households have relied on Eco Temp HVAC for all of their heating and cooling needs for nearly a decade now.
When your AC fails, contact us for repairs. Our devoted and skilled technicians are standing by to assist you!
Eco Temp HVAC is here to make sure you have the cool and comfortable living environment that you deserve – in its capacity as a leading provider of top-rated air conditioners and professional servicing. Call us now to learn more about what we offer, or fill out our quick online form to get more information!