Keep Your Home Safe and Warm with Expert Furnace Repair Services
Your furnace is perhaps one of the most important systems in your house. Making sure it works properly when you need it can be insured with proper maintenance, however, what if it breaks down on the coldest day of winter? Eco Temp HVAC to the rescue! We will zip on over to you ASAP and perform our furnace repair diagnostics to find the issue and get you back up and running in no time!
Making sure your furnace is completely functional will help you avoid problems caused by a cold house, as it does more than only keep your family warm. When the temperature drops and things start to freeze, your furnace keeps everything inside your home safe. Pipes and water lines can freeze or burst if your furnace fails, inflicting hundreds or thousands of dollars in damage.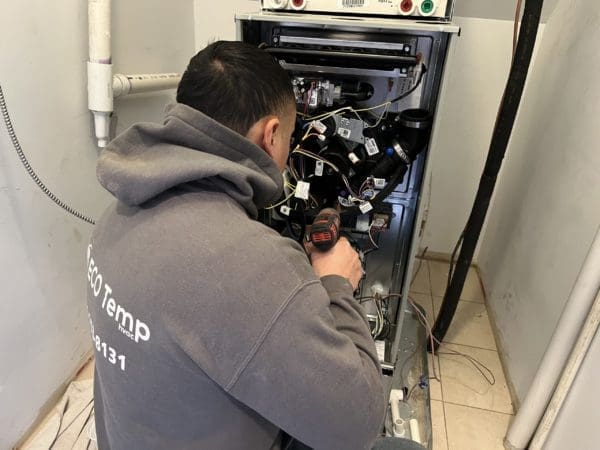 Signs That Your Furnace Needs Repair
Homeowners must keep an eye on their furnaces to avoid more system damage caused by protracted repair demands. The following are just a few indications that your furnace requires emergency repair by a qualified professional:
Heating Expenses: If you see an unexpected increase in heating costs, your system may be losing efficiency, causing problems for both your comfort and your wallet.
Inadequate Heating: If you notice that your home's temperature is never warm enough or that there are several chilly spots around the house, it's a solid sign that your furnace needs to be serviced.
Loud Noises: Banging, clanking, and rattling sounds are never expected and usually indicate that mechanical components within your system have become loose.
Air Quality: Poor indoor air quality is typically caused by a filthy furnace filter, which your Eco Temp HVAC professional can quickly repair.
Pilot Light: The pilot light on your furnace should be blue; however, a yellow pilot light could indicate that your system is spewing harmful carbon monoxide gas.
If you see these indicators your furnace could be in trouble! Call Eco Temp HVAC at (224) 253-8131 to schedule your Furnace Repair service!
Furnace Repair Services for Chicago Families 24/7
When your furnace quits in the midst of a frigid Chicago night, the last thing you want to hear is an answering machine when you call for emergency repair. You'll never be left out in the cold at Eco Temp HVAC: Our team is accessible 24 hours a day, 7 days a week, to deliver the long-lasting furnace repairs you need to keep your teeth from chattering. With decades of service experience and a team of constantly trained specialists, we are uniquely qualified to service all furnace makes and models.
Don't let a broken furnace ruin your comfort: call the 24/7 furnace repair experts at Eco Temp HVAC at (224) 253-8131 to schedule service immediately!
Furnace Installation
A properly installed and maintained furnace is critical to your home's comfort and the lifetime of other costly systems, such as your piping system. Eco Temp HVAC contractors employ highly trained and skilled tradesmen and tradeswomen who appreciate the importance of a working furnace.
These individuals have received training in the most recent industry technologies and can propose the best furnace to put in your home. They may not only recommend a furnace but have also been professionally trained to install it.
A correctly installed furnace will keep everyone who's in your home safe and warm.
Uninstalled furnaces can develop a carbon monoxide leak, allowing this odorless and tasteless dangerous gas into your living rooms and potentially jeopardizing the lives of all building residents.
Routine Furnace Maintenance
When you make a large purchase, such as a furnace, it is imperative that you pay attention to the equipment and ensure it receives regular maintenance.
We recommend that all furnaces, regardless of age, have preventative maintenance performed each year before the cold winter arrives. A competent Eco-Temp-HVAC-associated contractor can inspect your furnace for dust accumulation, ignition problems, blocked filters, electrical problems, and other issues that could cause your furnace to stop working when you need it the most.
An annual inspection will ensure that your furnace is operating efficiently, that all carbon monoxide is correctly vented to the outside, and that there are no leaks. Annual maintenance is a small price to pay when compared to the cost of repairing or replacing a neglected furnace, as well as the cost of a hospital bill or death from carbon monoxide poisoning.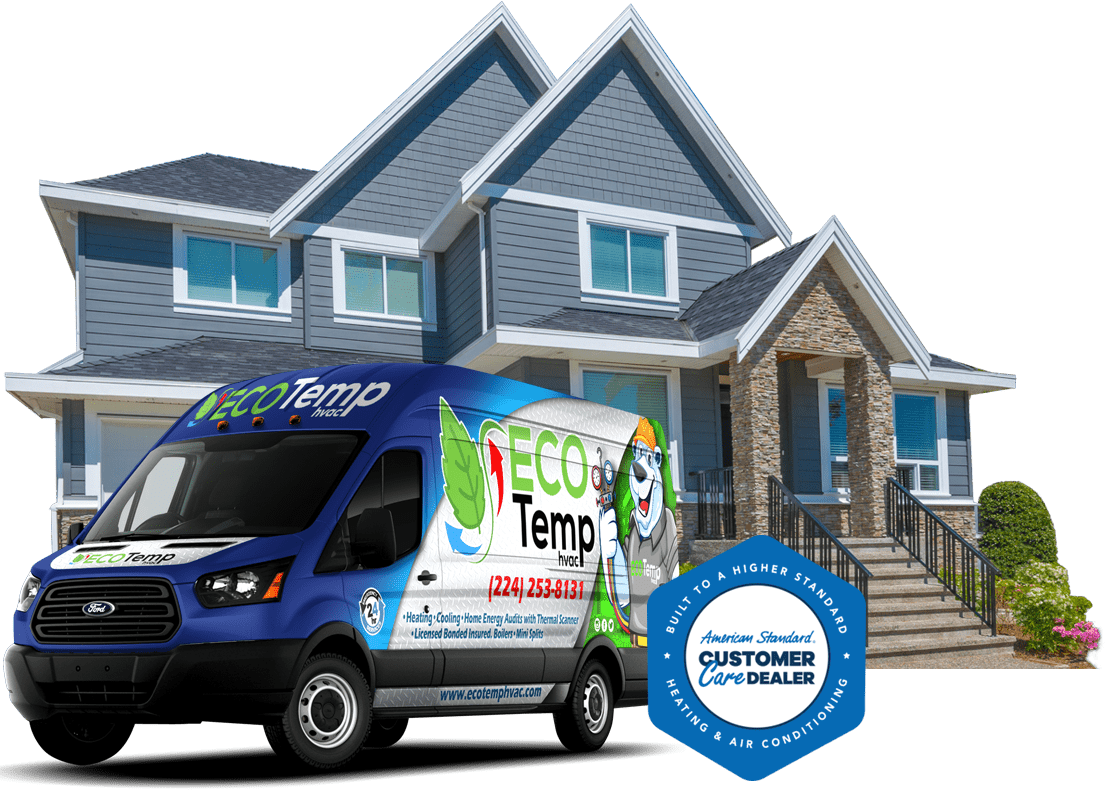 Why Choose Eco Temp HVAC for Chicago Furnace Repair?
Eco Temp HVAC has been dedicated to providing outstanding cooling and heating services that Chicago families can rely on for over a decade. Customers who hire our team for emergency furnace repairs know they can always rely on us to:
Every one of our over 10 service vehicles is fully stocked to get you back up and running in a couple of hours, with no additional fees for nights, weekends, or on holidays. When your heat goes out, it's up to us to get it fixed as soon as possible!
Extreme cold can strike anywhere in Chicagoland and Northwest Indiana at any time. Eco Temp HVAC understands that you can never be too prepared for an emergency. You'll be relieved to know that there are no extra fees for after-hours service and that we offer reasonable repairs on all makes and models. If a new furnace installation will save you money in the long run then we will give you multiple options to replace it and even do the repair for free in the meantime just to keep you warm till we can finish the replacement!
Here are a few of the reasons why consumers use Eco Temp HVAC for heating repairs:
24-Hour Service: Chicago's finest furnace repair technicians are available 24 hours a day, 7 days a week, 365 days a year!
We Serve Your Region: Eco Temp HVAC has a furnace repair specialist in your area right now, and we guarantee that we will reply to your call within 1 hour.
Round-the-Clock Customer Service: Tired of talking to automated messaging in customer service? Live Customer Care Specialists are available at all hours of the day and night to assist you.
Affordable Repairs: After diagnosing the furnace, your specialist will confirm the repairs and cost before proceeding with the work. At the end of the service, there are never any surprises!
No Extra Charge: You will never be charged extra for heating repair services performed at night, on weekends, or on holidays, and we even offer special discounts to members!
All Makes and Models: Eco Temp HVAC will repair any furnace, no matter the make or model!
Superior Service: With our accreditation and an A+ rating from the Better Business Bureau, you can rest assured that your furnace is in good hands.
To book your heating repair in Chicago or the surrounding suburbs, call the number listed at the top of this page or get started by scheduling online today.
Explore More Home Heating Options