Expert Heat Pump Repair for a Warm Home
We can get your heat pumps up and running quickly and efficiently to provide long-term performance.
Heat pump repair
Heat pumps are an efficient method to enjoy pleasant year-round temperatures in your home, but problems with this type of HVAC system must be handled by a professional team with the necessary skills. That's what Eco Temp HVAC does, and we provide prompt, affordable heat pump repair services throughout the Chicagoland area. We will go above and above to ensure that you are never without a working HVAC system by providing 24/7 service and quick response times.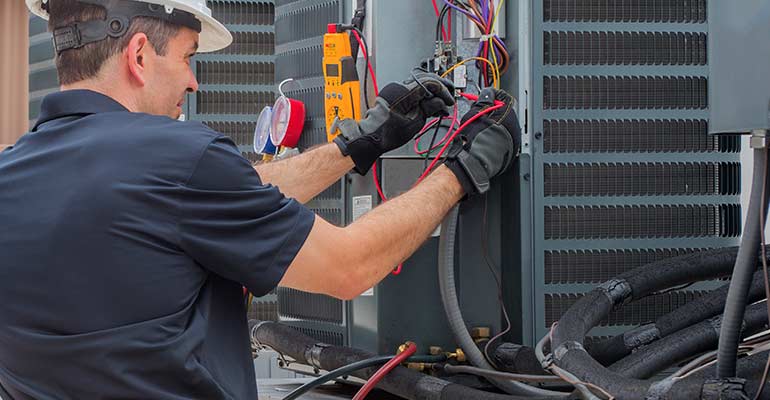 5 Signs your heat pump needs repair
Your heat pump is the throbbing heart of your home or office heating system. Most of the time, it performs so well that we take it for granted. We only think about it when something goes wrong. When this happens, though, it can lead to a long and costly repair. Some awareness is often enough to allow us to bring in the pros to handle minor issues before they become disastrous and detrimental to your business operations or a peaceful domestic life.
Knowing the early warning signs of heat pump repair can save you time, money, and pain in the long run. Regularly check your heat pump and keep an eye out for…
Old age
Even the best of us struggle to function as well in our later years as we did in our youth. With that in mind, we're not all that different from the heat pumps that power our homes. A heat pump may eventually begin to experience recurrent failures. You should keep a close eye on your heat pump if it's more than 15 years old so that you can spot any problems as soon as possible. However in most cases, if your heat pump is over 15 years old then it will more than likely save you money long-term to get a new heat pump.
Ice Forming on the Coil
Ice on the exterior unit during heat mode operation is not a cause for concern. In fact, it is a common aspect of the heat pump heating process. However, if this ice gets thicker, contacts any moving parts, or does not defrost regularly, it may be time for a heat pump inspection. Excessive ice build-up can obstruct moving parts and also inhibit a consistent airflow through the unit, which takes us to…
Airflow Restrictions
A heat pump relies on airflow. After all, moving air is what keeps your home at a steady temperature. If ice, dust, or strange elements obstruct the airflow out of the heat pump, you will notice that your home feels less pleasant. If you have noticed decreased airflow, your system may need to be checked to identify the problem.
Strange noises or clicking
In some cases, strange noises or clicking are pretty prevalent with heating systems. A heat pump defrosts by switching from heating to cooling, turning off the outdoor fan, and allowing the heat to melt the frost on the outdoor unit.
The electric heaters in the air handler will then kick on to keep the air blown in the house from becoming too chilly. Once the unit has defrosted, the system will return to the heat mode and turn on the exterior fan.
When this happens, the heat and water from melting the ice often cause what appears to be smoke to rise from the top of the system. This is only steam, and it should go away in a few seconds. If the system enters this mode frequently, lingers in defrost for more than 5-10 minutes, or fails to melt the ice from the coil, your system may need HVAC assistance to check the operation and refrigerant charge.
Auxiliary Heat is always or regularly turned on
The "AUX HEAT" sign on a thermostat indicates that the air handler's electric heaters are turned on. When the temperature setting and the actual home temperature are two or more degrees away, or the system is in defrost, this is a very common element of the heat pump process.
However, your system may need repair if the AUX HEAT sign is frequently or consistently on.
Do Not Try To Repair Your Heat Pump On Your Own!
A little vigilance and knowledge can notify you when your heat pump needs to be repaired. Even if you are sure of the problem source, we do not recommend trying to repair it yourself.
Your heat pump is a complex and multifaceted machine and trying to repair it might result in long-term harm or even catastrophic loss of function. Calling in our experienced and highly trained Eco Temp HVAC professionals will save you stress and pain now – and money later.

Timely heat pump repair for a comfortable home environment
Eco Temp HVAC, a reputable heat pump repair company for nearly a decade, has the knowledge required to perform heat pump repairs of all sizes— 24/7, day or night. Our professional crews thoroughly assess your unit and give expert solutions to get your heat pump back up and running, and our full-service offerings include:
24/7 Services: You can call us 24/7, day or night, to get heat pump repair, and we will be there in less than two hours to fix the problem!
Full-Service Solutions: We have experience with heat pumps of many makes and models, and we arrive with fully supplied trucks to conduct repairs right away.
Installs and Replacement: If you need a new heat pump or HVAC machine, we provide affordable installation and full replacement options.
Repair Guarantees: We stand behind the quality of our work and offer a Lifetime Repair Guarantee for your peace of mind.
Learn More About Heat Pump Repair with Our Trained Technicians
Eco Temp HVAC is proud to provide heat pump and HVAC unit servicing throughout Chicago and surrounding suburbs, and we invite you to contact us now to learn more about the benefits of working with our reputable repair and installation company. Just call us today or fill out our simple online form to request your service or more information about what we have to offer.