Eco Temp uses safe, efficient, and environmentally friendly methods for HVAC duct cleaning.
The experts at Eco Temp HVAC can clear your ducts of up to 99.97% of the debris and dust that has settled within.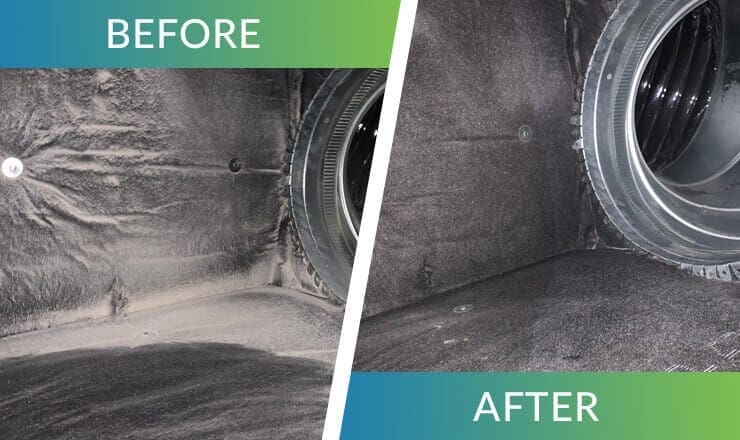 Air duct cleaning
Dust and debris accumulate in the air ducts of your HVAC system, just like in any other part of your home. However, air duct cleaning is a considerably trickier procedure than dusting your furniture. Therefore, you should reach out to a professional HVAC company to do the job right—and as a business with fully qualified specialists, you can rely on Eco Temp HVAC to keep your Chicago, Il, home clean and safe.
At Eco Temp HVAC, we clean air ducts for commercial and residential clients in Chicago, Il. We are committed to providing prompt and reliable service with the end goal of enhancing the quality of your indoor air and the performance of your HVAC system. 
To make sure that all ducts are cleaned fully, safely, and responsibly, we use only the most cutting-edge tools, such as high-tech filtration systems, in the hands of trained professionals. As part of our thorough air duct cleaning services, Eco Temp HVAC also cleans the following:
registers
grills
diffusers
chillers
filter housings
supply fans
fan motors
Duct Sanitizing is an effective means of treating the ventilation system to eliminate any existing health dangers like mold or germs – and Eco Temp is a leader in this field as well as in providing comprehensive, top-to-bottom cleaning services. Get in touch with us today to hear about the many options we offer for cleaning air ducts in Chicago.
Use our decades of air duct cleaning experience to your advantage!
Since 2016, Eco Temp HVAC has been offering Chicago homeowners reliable and affordable HVAC services. We have more than 50 years of total experience in the air duct cleaning business, so we have had plenty of time to perfect our process! In fact, our highly experienced professionals are well-versed in all of the most effective duct cleaning methods. Every time they go to work, they have one goal in mind.
To make sure you enjoy all of the benefits that come with a cleaner air duct system:
Increased Energy Efficiency: When your ducts are clean, your system does not work as hard to heat and cool your home.
Odor removal: Lingering scents trapped in the ducts will be fully removed.
Reduced debris: Our services significantly reduce the amount of dirt and debris in your duct system, providing your family with cleaner, purer air.
Fewer allergens: A thorough cleaning of your ductwork will significantly reduce allergy triggers in your house.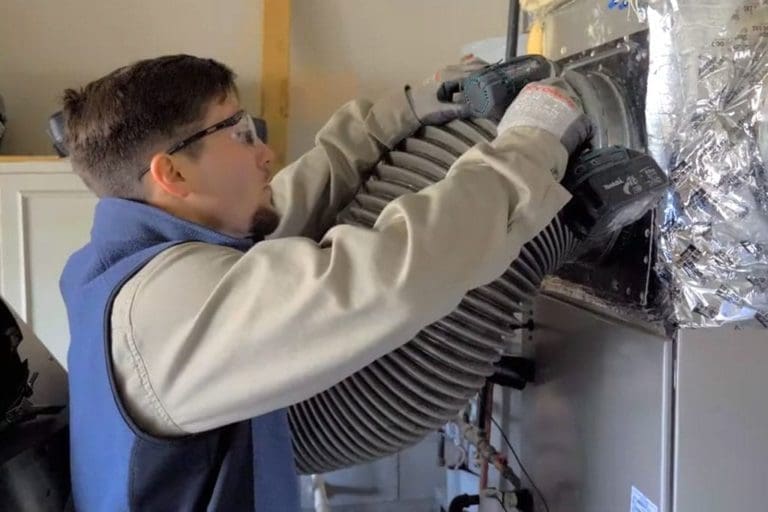 Not just another HVAC company
Certified duct cleaners: Our certified air duct cleaning professionals are dedicated to greater quality and ethical business practices. Eco Temp HVAC goes above and beyond to meet and perhaps even exceed your expectations.
Three-Stage HEPA Filtration: Our three-stage HEPA filtration and strong vacuum systems work together to ensure that all toxins are safely removed from your house. Also, all of our equipment complies with OSHA and EPA requirements. We use pressurized air as well as agitation.
3-5 Hour Process: When you have Eco Temp HVAC handle your duct cleaning, we will arrive at your home well-equipped to perform a comprehensive air duct cleaning. While other less scrupulous businesses may spend less than two hours cleaning your ducts, our professionals will painstakingly clean every part of your ducts for 3 to 5 hours.
Upfront pricing and free in-home estimates: Some duct cleaning companies may offer an appealingly low price to get their foot in the door, but after they arrive, the price starts to rise with unexpected fees and services. Eco Temp HVAC provides flat-rate pricing for single systems and never upsells our services. We embrace transparency in pricing, so whether you have a one-of-a-kind property or one with many systems, we offer free in-home estimates to give you a clear image of the services we provide.
Money-back guarantee: Eco Temp HVAC is an accredited company with a proven reputation for quality work! We gained this reputation by committing to providing exceptional customer service. We want you to be satisfied with the service you get, so if you have a problem, we will not stop until it is fixed.
Eco Temp HVAC has been family owned and operated for nearly a decade, so you can rest assured that your vent and duct cleaning services will be managed by the leading HVAC company in the Chicagoland area, not some fly-by-night operation.
Is there an indoor air quality problem at home
The following questions aim to identify if you have indoor air pollution problems in your home:
Does your air circulating system use a typical fiberglass filter?
Do you have any pets?
Does any member of your family suffer from allergies, asthma, or other respiratory issues?
Do you suffer from headaches, nausea, or burning sensations in your nose, throat, or eyes when you're at home?
Do you regularly remove excessive dust accumulations from your furniture?
Did you observe dust and debris within the filter's housing when you last replaced your furnace filter?
If you responded yes to any of the following questions, it's time to schedule an air duct cleaning!
More information on our air duct cleaning services
Don't put off cleaning your air ducts any longer! Instead, contact Eco Temp HVAC to learn more about our affordable air quality services that will make your house cleaner, safer, and healthier. You can receive a free, no-obligation estimate for your job by calling us at (224) 253-8131 or filling out our simple online form.