Upgrade Your Home Comfort with American Standard Smart Thermostats
Looking for improved home comfort and energy efficiency? Discover our latest line of American Standard Smart Thermostats. Designed with homeowners in mind, these advanced devices offer unparalleled control, ease of use, and energy savings.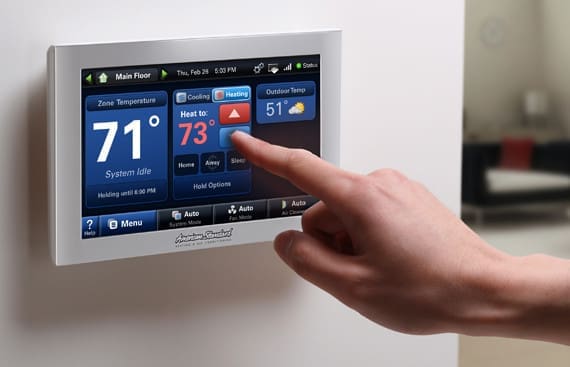 Gain Unmatched Efficiency and Control
Our American Standard Smart Thermostats are revolutionizing home HVAC systems. Adjust temperature settings from anywhere using your smartphone or tablet, optimizing your home's comfort and significantly improving energy efficiency.
Smart Energy Savings
Our Smart Thermostats offer more than just control; they're your partner in savings. These intelligent devices learn your habits to maximize comfort while minimizing energy use, resulting in potential reductions in your energy bills.
Seamless Smart Home Integration
Enjoy a fully integrated smart home experience with American Standard Smart Thermostats. They offer effortless voice control compatibility with devices like Amazon Alexa or Google Home, bringing the future of home comfort to your fingertips.
Hassle-free Smart Thermostat Installation
With a user-friendly design, the smart thermostat installation process for our American Standard devices is simple and hassle-free. And if you need any assistance, our customer support team is always ready to help.
Discover the Power of AccuLink Communicating System by American Standard
Dive into the future of HVAC management with the AccuLink Communicating System, a hallmark of American Standard. This integrated and self-configuring system serves as a central communication hub for your HVAC components. AccuLink's sophisticated technology ensures that your components interact seamlessly, streamlining their operation for optimal performance. Its cutting-edge feature allows you to remotely modify settings and receive proactive alerts, providing real-time updates on your system's functioning. By equipping your home with AccuLink, you gain peace of mind knowing your HVAC system operates at its best, ensuring unrivaled comfort and efficiency.
Dependable Performance, Exceptional Comfort
Trust in the century-long reputation of American Standard. Our Smart Thermostats deliver reliable and efficient performance, providing you with exceptional comfort that you can feel.
Immerse yourself in superior home comfort today by exploring our range of American Standard Smart Thermostats. Enhance your HVAC system's performance and make your home smarter.
Ready to revolutionize your home comfort? Call (224) 253-8131 now to learn more about our American Standard Smart Thermostats and our professional smart thermostat installation services.
Explore More Smart Thermostat Options
Explore New American Standard Smart Thermostats
Delve into the innovative world of American Standard Smart Thermostats. With superior control, remarkable energy efficiency, and unparalleled home comfort, these devices offer a revolutionary approach to managing your HVAC system. Enhance your living space and save on energy bills with our smart thermostat solutions.