If You're Happy, We Are Too!
Commited To Doing It Right
We don't just talk about doing things right; we live it.
Hey, this is Jordan and Kyle, the owners of Eco Temp HVAC and we are committed to 100% customer satisfaction so that our customers can feel confident in their decision to choose a reputable contractor who understands what's important: You! For over 6 years now since we started this company with only two employees (ourselves included), we have been tirelessly working hard to build up trust among all those who rely on us from Chicago-area homeowners & contractors alike because without people like you guys there wouldn't be much work going around or growth possible within our communities.
Now we aren't new to contracting by any means as we have both have been working in the trades since a young age because of our fathers, so we know mistakes can happen from time to time. That is why we are giving you our it's right or it's free guarantee.
Mistakes are a part of life. But we can assure you that if we do make a mistake on your repair, we will happily refund your money in full and make it right. We also offer a 1-year 100% Satisfaction Guarantee or your money back on all new installations.*
Your satisfaction is always our top priority. That's why we provide the guarantee along with immense hands-on training for all of our HVAC technicians as well as routine education about HVAC repair. All of our techs are equipped with cutting-edge tools and technology so we can get down to the root cause of any issues to prevent any breakdowns in the future.
This is our personal guarantee to you.
We want to thank you for your business and give you peace of mind by knowing that Eco Temp HVAC is committed to providing customer satisfaction. If at any point during our interaction or after purchasing one of our services feels anything other than comfortable then please feel free to contact Jordan or Kyle personally by clicking on our names. However, if there is an emergency then call (224) 253-8131 for immediate service.
You are what makes us great and we thank you,
Jordan & Kyle
Founders of Eco Temp HVAC


*If we install your system and It is not working per manufacturer specs, independently verified by the manufacturer, we will make all necessary corrections. If we cannot get the system to operate at the manufacturer's specification, we will refund 100% of your money and remove the equipment.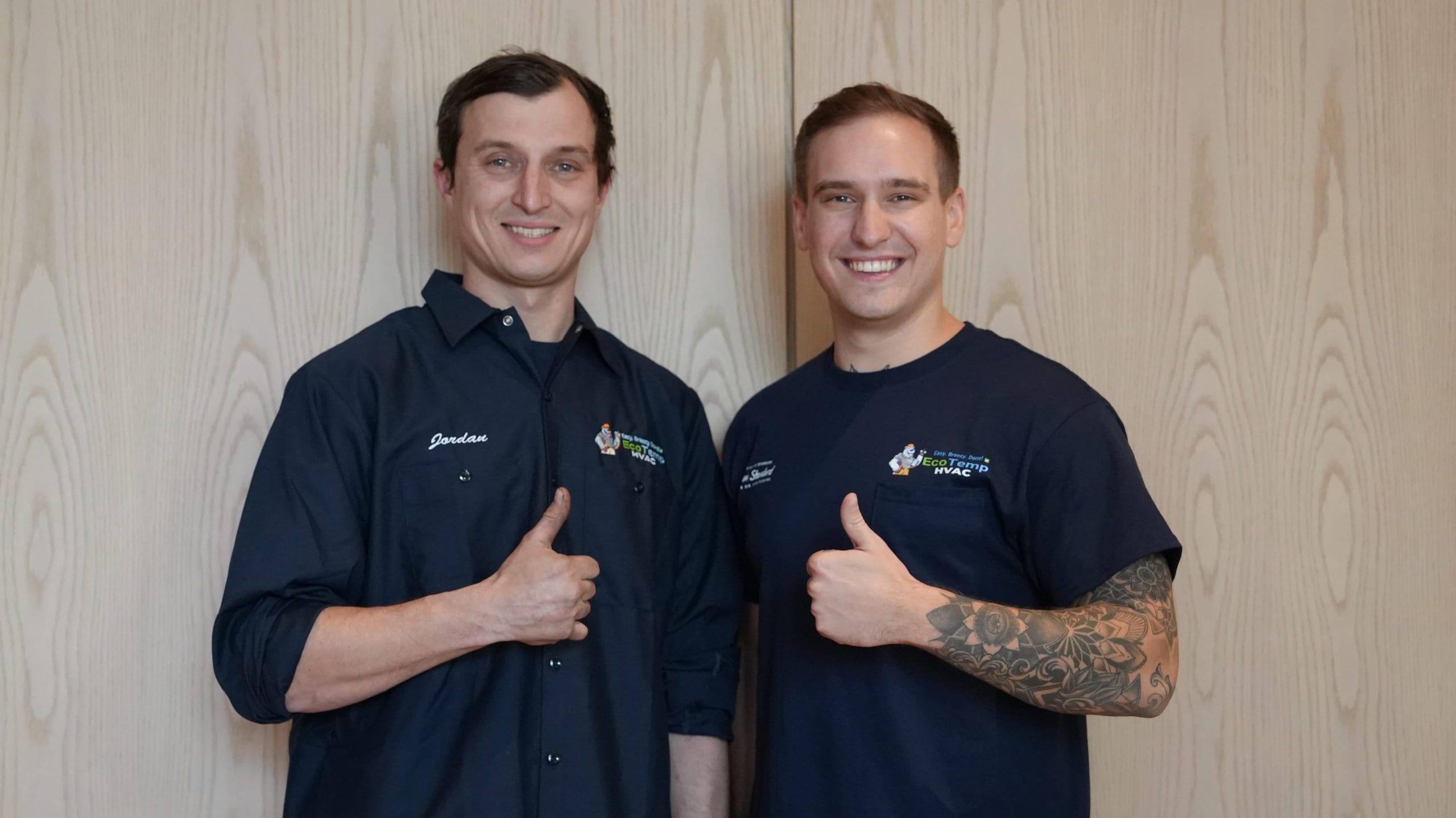 Local Top-Rated HVAC Techs
Awards & Accreditations
You can always rely on us for top-quality services. We have a team of experienced and certified technicians who are dedicated to meeting your needs, no matter how big or small they may be! HVAC is a necessary part of every home, but sometimes it can be challenging to find someone who knows what they're doing. That's where we come in! We offer free quotes on all our services, so stop by or give us a call today and discover the ultimate comfort in your home once more, thanks to the pros at Eco Temp HVAC.