Improve Indoor Air Quality with Top-Notch Solutions
Using our products and services, we can improve the air quality in your home or business so that it is once again healthy and comfortable.
Air cleaners come in different shapes and sizes, ranging from simple, affordable tabletop models to more sophisticated, pricier whole-house systems. Most tabletop air cleaning models are far less efficient than others at removing particles. Most air purifiers are not made to get rid of gaseous contaminants.
How well an air cleaner removes pollutants from indoor air (the percentage efficiency rate) and how much air it pulls through the cleaning or filtering element (in cubic feet per minute) determines how well it works.
Cleaners with either a low air-circulation rate and a highly efficient collector, or a high air-circulation rate and a less efficient collector, will be ineffective. Keeping an air cleaner in good working order over time requires regular servicing as specified by the manufacturer.
The strength of the pollution source is another crucial aspect in determining the efficiency of an air cleaner. Especially when dealing with potent surrounding sources, a tabletop air purifier may not be able to do the job to your satisfaction. Some people who are extremely sensitive to air pollution may discover that air purifiers are only effective in tandem with a comprehensive attempt to eliminate the original source of the problem.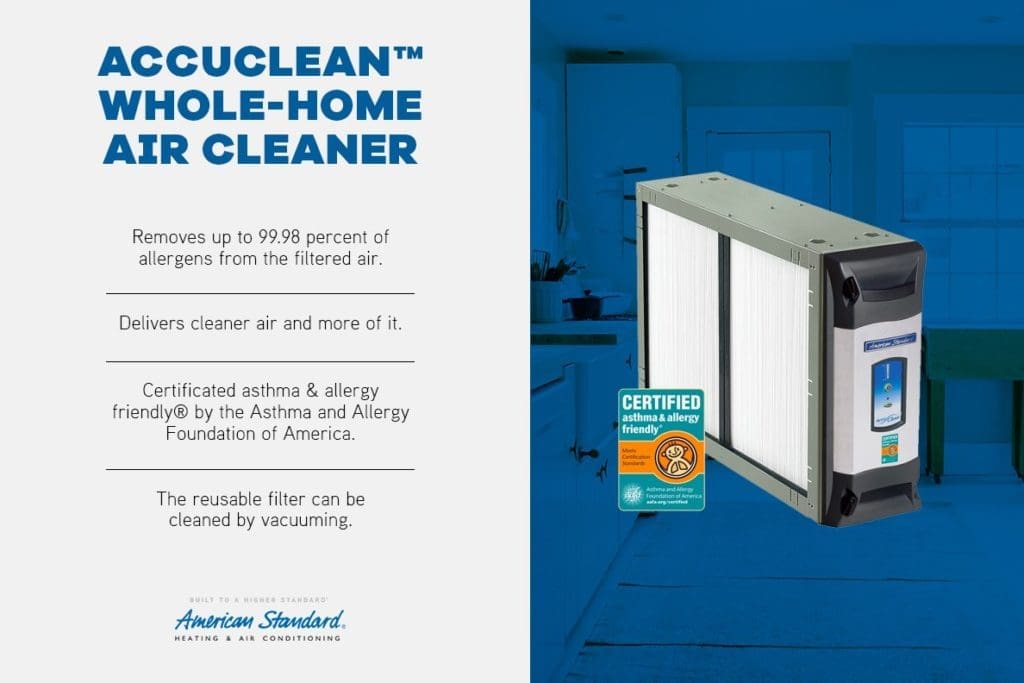 Air quality
With pollution on the rise and homes being more tightly sealed than ever before with improved insulation, indoor air quality is a valid problem for any Chicagoland homeowner. Poor indoor air quality can impede your family's comfort and health, as well as cause problems with harmful contaminants at home. Eco Temp HVAC provides the cost-effective air quality solutions you need to restore pure air to your interior.
Long-Lasting, High-Performance Humidifiers
The Midwest's winters are long and harsh, and dry air is an unavoidable byproduct of sealing up your windows and putting on your heating system for the season. This can result in poor indoor air quality, but we offer high-quality Aprilaire whole-house humidifiers for robust humidification.
Indoor Air Quality Improvement with Tailor-Made Air Cleaning Products
Eco Temp HVAC has a large selection of highly effective products designed to meet the varying needs of homeowners in Chicago, Il, looking to improve their indoor air quality. Call us at (224) 253-8131 to find out which air cleaning products best suit your home.
UV Lights
You've probably heard of UVA and UVB — the two forms of solar ultraviolet (UV) radiation from which people use sunscreen and other measures to protect themselves. The most harmful type of solar radiation is UVC, yet it is fully filtered out by the atmosphere and never reaches the earth's surface.
You can have purified air in as little as 24 hours thanks to our chemical-free and entirely safe ultraviolet light treatment process, which is ideal for eliminating flu viruses and 99.9% of illness-causing irritants.
Many healthcare facilities now use UV lights as part of their air disinfection systems. Its use is also expanding in other high-traffic buildings where maintaining good air quality and limiting the transmission of disease are priorities, such as:
Office buildings and complexes

Schools and other educational institutions

Airports

Childcare Facilities

Daycare centers

Senior-living facilities

Large residential buildings
In most cases, UV lights are used in conjunction with other air purification strategies, such as ventilation, particulate filtration, and so on.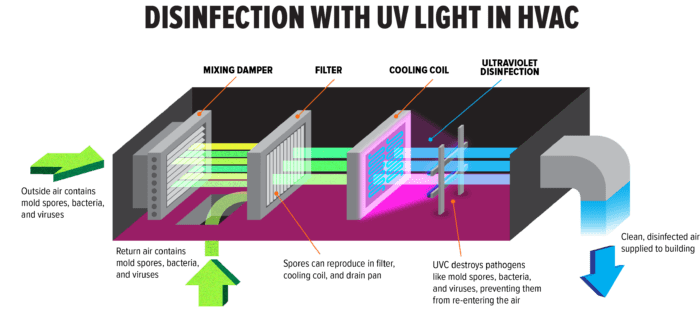 Air cleaners
The most effective strategies for bettering your indoor air quality are to limit or eliminate sources of pollution and to ventilate with clean outdoor air. Also, research demonstrates that filtration might be a useful supplement to source control and ventilation. Using a portable air cleaner and/or replacing the air filter in your furnace or central HVAC system can help improve indoor air quality. Portable air cleaners, often known as air purifiers or air sanitizers, are meant to filter the air in a single room or area. Central furnaces or HVAC filters, on the other hand, are intended to filter the air throughout a home. Portable air cleaners and HVAC filters can help minimize indoor air pollution but cannot remove all pollutants.
Here at Eco Temp HVAC, we offer high-quality whole-house air cleaners specially designed to remove toxins and irritants from your interior environment – without increasing your utility bills!
Air filters
A central air filtration system is often placed at the indoor unit or at the return air filter grill, which is located on the return air side of your HVAC system. One of the key functions of air filters is making sure that your heating and cooling system continues functioning as intended. By trapping and eliminating particles from the air, air filters also help to reduce the airborne AQI and make your home's air cleaner. Outdoor air pollution, pollens, skin cells, hair, dander, smog, smoke, and indoor dust are all examples of such particulates.
Our professionally fitted filtration solutions integrate with your existing HVAC system setup to ensure that the cleanest air possible flows throughout your house.
Find Out How to Improve the Air Quality in Your Chicago Home
Every person has the right to breathe clean, healthy air in their own homes, and Eco Temp HVAC can make that a reality for you. Get in touch with us right away if you have any questions concerning the air quality solutions we offer. If you want further details or a free consultation, just fill out our quick online form.
Explore More Air Quality Improvement Options