How Dependable Are Mitsubishi Mini Split Systems?
You are probably familiar with Mitsubishi. The Japanese automaker has produced several famous vehicles, including the Lancer, Gallant, and Eclipse. Along with Ford, Peugeot, and Subaru, it has made its mark on racing, especially WRC Rally, as one of the most prominent teams.
Did you know that Mitsubishi is also an industry leader in HVAC systems? If you plan to replace your current HVAC system, the Mitsubishi mini-split is an affordable, reliable, and energy-efficient piece of equipment that might just be your next best investment.
Looking for professionals capable of doing the most reliable mini-split installation money can buy? Feel free to contact Eco Temp HVAC, as we are the right team for the job.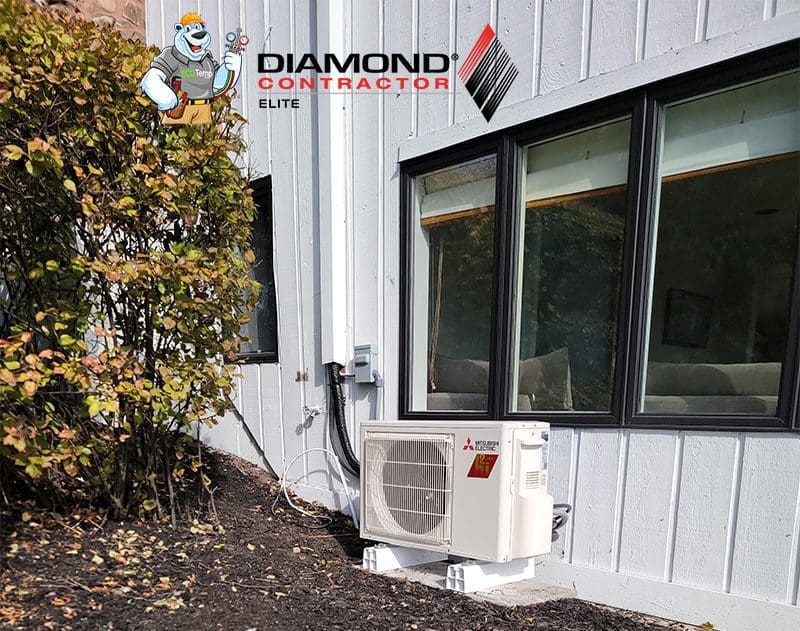 What Are Mini-Split Systems?
Mini-splits are two-part ductless systems that are very similar to heat pumps. While the evaporator unit is located inside the house, the condenser unit is outside. The two components are linked by many refrigerant lines containing specific chemicals that are responsible for air cooling.
When talking about mini-split installation, you should realize that the term "mini" relates to the unit's size and design. Both components are small and elegant, allowing for easy installation. They also take up significantly less space, making Mitsubishi mini-splits an excellent choice if you need to save space.
Mitsubishi Mini-Split System Components
Mini-split systems are made up of four distinct components. Here are some examples:
Condensing Unit
The condenser unit is located outside your residence. It contains the condenser coil, which is responsible for cooling the liquid refrigerant and pumping it through the refrigerant lines to the air handling unit(s) within your residence.
Refrigerant Lines
The external component of the ductless unit is linked to the inside unit by refrigerant lines(s) – also known as "line sets." They are small tubes that contain cooling refrigerant. A hole must be bored through the wall to link the external and interior units.
Wall monitor or remote control
Both of these components are used to regulate the full Mitsubishi mini-split air conditioning system. You can change different settings, including the modes and temperature.
Indoor Unit
There are different ways to go about this at home. The most common way to install Mitsubishi mini-split AC units is on the wall, but they can also be installed on the floor or ceiling via a cassette or concealed ducted air handler. You can choose the place and height that will provide optimal air circulation and the simplest access.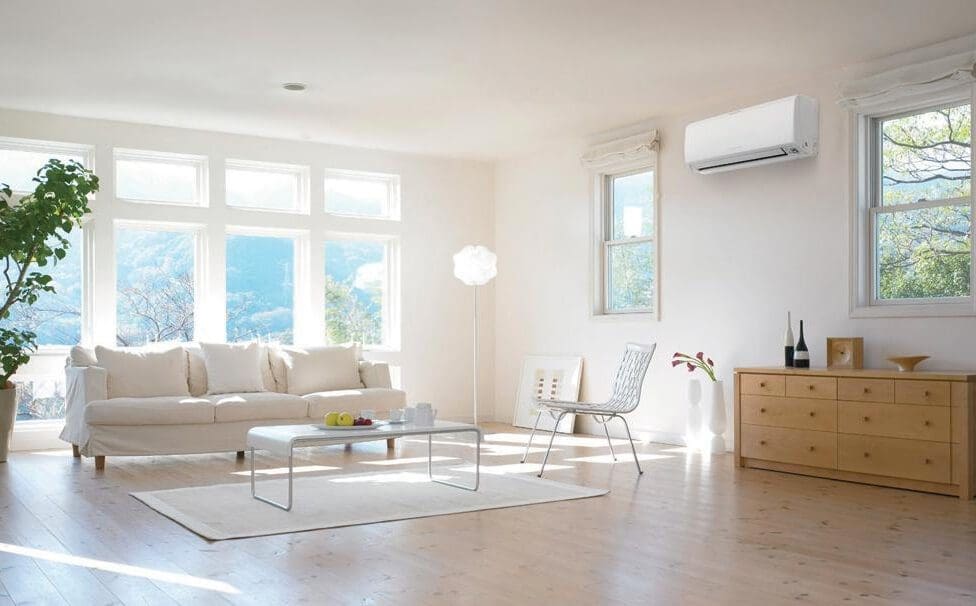 Benefits and Features of Mitsubishi Mini-Split That Stand Out
Energy efficiency
The Mitsubishi Mini-split is also noted for its stable efficiency. The units aim to use as little energy as possible while maintaining the desired temperature. Feel free to check out the ravishing SEER ratings for the Mini-split product line. You'll be glad to know that their most efficient models are rated at 26.
A rating of this level indicates that the system will operate reliably while consuming the least amount of energy possible.
Energy star
The Seasonal Energy Efficiency Ratio (SEER) is used to determine the efficiency of a micro split system. A higher SEER rating indicates that the unit is more efficient. The current federal minimum SEER requirement is 13 SEER, which also applies to Chicago, Il.
Mini-split heat pumps that have earned the ENERGY STAR designation have been independently certified to save energy, money, and the environment. ENERGY-STAR-certified mini-splits use up to 60% less energy than regular household electric radiators because they transfer heat rather than generate it.
Mini-split compressor options
There are other types of compressors to choose from as well. The typical compressor is reliable, does its job, and requires little maintenance. However, they are not the most efficient forms available.
Mitsubishi mini-splits also use inverter-driven compressors, which help to cut power consumption by drawing only what is needed to cool or heat the space.
The initial cost of these compressors, however, is slightly higher. While energy savings may balance this expense over time, your budget will help you decide which type is ideal for you to begin with.
Condenser fan
Condenser fans are not a common choice for Chicagoans. They can, however, be more effective. Mitsubishi employs technologies that allow the fan to work only when necessary and to help prepare the system to blow hot air or cold air without drafts upon start.
Other features, such as zone control, allow the fans to run less frequently and more efficiently. These new fan features will allow you to run the system for longer periods of time or more often without consuming as much power.
Noise levels
Quiet functioning systems are nearly a necessity, but it is a feature that we frequently neglect. Perhaps we anticipate the air conditioner or heater to be silent, but this is not always the case.
When running, noise levels are affected by different variables, including the operation mode, fan speed, and vents' location. In most cases, Mitsubishi mini-split systems are quiet enough not to interfere with your daily life. Activating the system will not oblige you to increase the level of your TV or your conversations.
Choosing Leading Brands
At Eco Temp HVAC, we are committed to tracking the current advancements in our industry and shaping our services accordingly, ensuring that you always receive the finest recommendations and guidance before accepting any projects. When it comes to purchasing HVAC or AC systems, we can confidently claim that Mitsubishi has established itself as an industry leader in terms of efficiency, environmental friendliness, comfort, and overall tech features.
These Mitsubishi mini-split units are a must-see if you are looking for a new HVAC system and considering mini-split installation. We are talking about a trustworthy brand that has always been at the forefront of technological innovations, regardless of the industry.
Our team of professionals at Eco Temp HVAC is at your service!
This has been a short "teaser" to highlight what these systems are capable of and how they are transforming the way Chicago homes view HVAC and AC systems. If you'd like to learn more about these Mitsubishi mini-split units and the technology behind ductless systems, or if you are thinking about installing one in your home, give us a call at (224) 253-8131. We will be more than happy to discuss any questions or concerns you may have and help you with the installation process.