Water Heater Repair Services in Chicagoland
Eco Temp HVAC is here to help you with all of your home comfort needs. A functional water heater is a crucial component of this. We provide a variety of water heater services, including water heater repair. We also offer water heater maintenance and installation. When your water heater isn't working properly, our licensed and professional technicians at Eco Temp HVAC will help you get it back up and running in no time!
Call (224) 253-8131 today to schedule a consultation with the Chicago specialists at Eco Temp HVAC to discuss your water heater repair needs.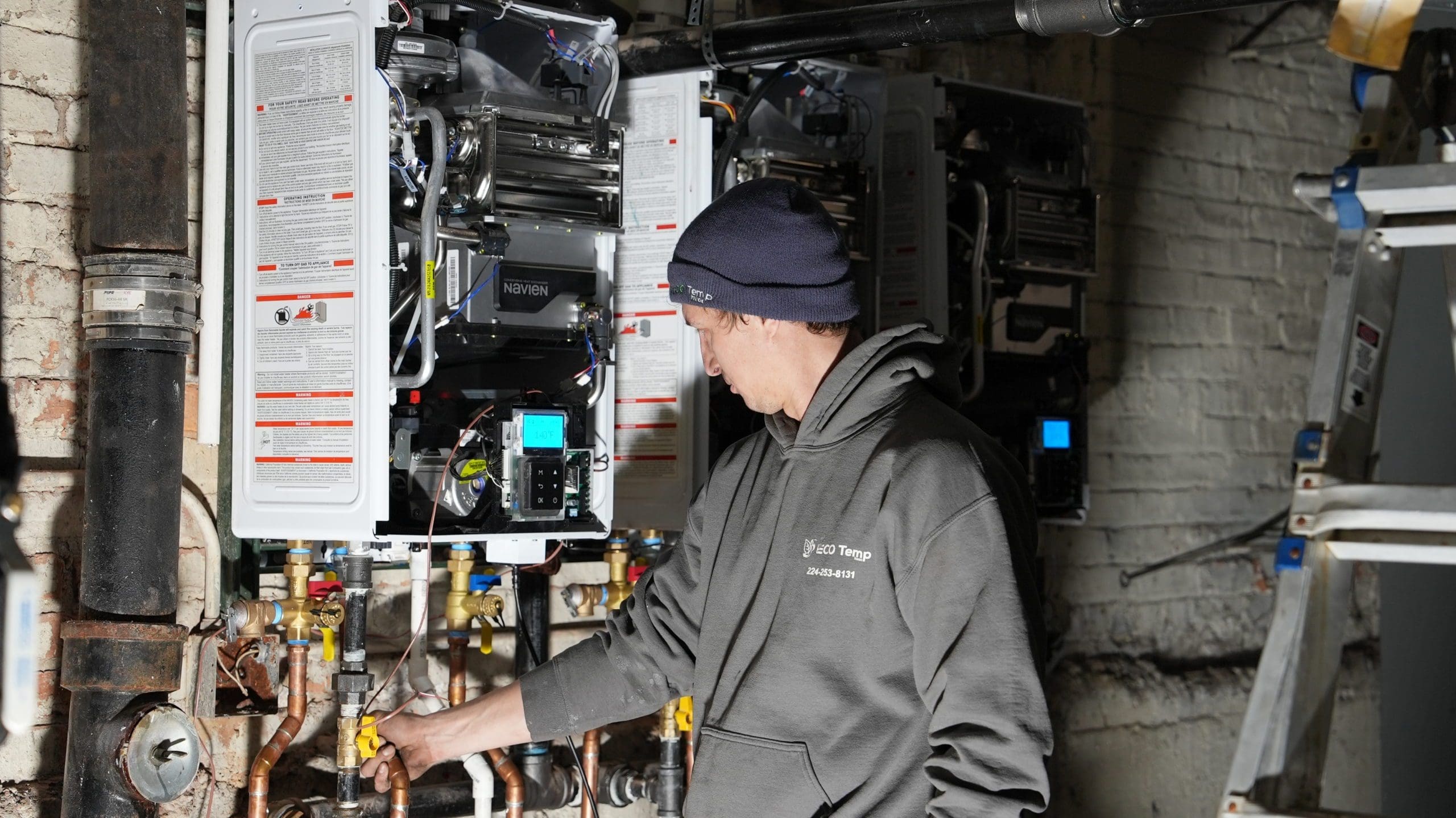 Chicago water heater repair
Water heaters are useful appliances that deliver hot water on demand. Modern models are energy efficient and appropriate for more confined spaces. However, like other household appliances, they are subject to system failure. When you notice a problem with your Chicago water heater, call Eco Temp HVAC right away.
One of the problems you may find when using the shower or dishwasher is poor heating quality. Many appliances may consume more energy than your system can handle. In such cases, your water heater may either fail to provide enough hot water for your home or shut down. This could be due to a wrong choice of your water heater size or a sign that something else is not quite right.
Contact us online or by phone at (224) 253-8131 to discuss your water heater concerns and get expert repair assistance now.
Signs you need water heater repair service for your Chicago, IL, home
Your water heater will usually warn you that it needs to be repaired. You can prevent the discomfort of a cold shower if you call at the first hint of trouble. Among the signs to look out for are the following:
Discolored hot water: This is usually caused by the rust in the system. If your water has turned dark or reddish, you need water heater repair.
Clanking noises from the water heater tank:

Mineral buildup is a common cause of this problem. In this case, what you need is a water heater flush.

No ignition:

If the water is not heating, the pilot light or ignition system may not work properly.

Hot water with a pungent stench:

If your hot water starts to smell funny, it could be a sign of buildup or other problems in your water heater.
Contact Eco Temp HVAC online or call (224) 253-8131 for Chicago water heater repair at the first sign of trouble.
Chicago water heater problems
The following are signs of tankless water heater complications:
Water temperature fluctuations

Strange noises coming from the heating unit

Water with strange colors

Low water pressure
You have the ability to restrict the number of appliances that require a steady supply of hot water to a manageable level. There may be a need for an upgrade if your home's water heating demands are particularly high. Another option is to purchase a new water heater that can meet your household's hot water needs. Alternatively, you can contact our licensed, trained technicians, and we can help you determine whether a repair is necessary.
Chicago's water supply is derived from one of two sources: surface water and groundwater – where there is high mineral concentration. Hard water can speed up the rate of scale buildup on the heating component. As a result, it affects the efficiency of your system, increasing your home's energy consumption. If enough buildup accumulates, contact Eco Temp HVAC to have the tank cleaned and your water heater restored.
What to expect during a water heater repair?
When you call Eco Temp HVAC for water heater repair, we will send a uniformed plumber to your home to assist you. Our staff will inspect the system from top to bottom to determine the source of the problem and then swiftly repair it. We frequently help with the following issues in the Chicagoland area:
Faulty valves or heating components

Issues with limit switches

Faulty wiring or thermostats

Burner and pilot light issues

Broken dip tubes
Don't try to fix your water heater on your own. If you need an expert plumber, call Eco Temp HVAC at (224) 253-8131 or complete our short online form.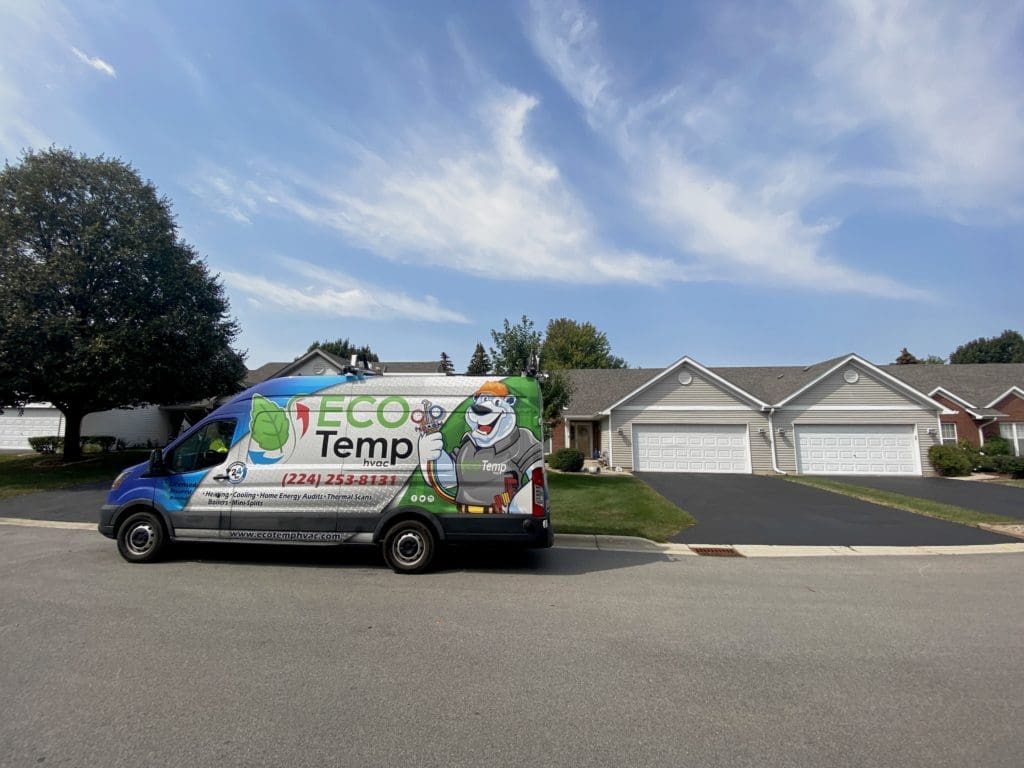 Water heater replacement
Expert plumbers in the Chicagoland area
Other than Wim Hof and his short-of-insane methods, almost no one enjoys taking cold showers. However, if you've been taking unusually cold showers recently, it may be time to replace your water heater.
However, purchasing a new water heater is only half the battle; if you want to enjoy the savings that come with an energy-efficient device, you'll need to have it installed properly.
A water heater that is not properly placed can cause water damage, searing temperatures, and even a fire. Therefore, water heater installation is best left to the experts who are familiar with your plumbing system.
For safe and dependable water heater repair, replacement, or installation, contact Eco Temp HVAC at (224) 253-8131.
Why should you hire Eco Temp HVAC for a water heater installation in Chicago, IL?
Eco Temp HVAC installs all makes and types of water heaters.
Every installation complies with all applicable building codes, laws, and regulations.
We make sure that all cold and hot water pipes are properly routed to avoid water pressure concerns.
Our plumbers guarantee that your water heater is properly vented so that it does not pose a fire threat.
If you're concerned about the time it takes hot water to reach the tap, Eco Temp HVAC can install hot-water-circulating systems, which keep hot water in your pipes and ready to use at a moment's notice.
We provide guaranteed parts and workmanship!
Schedule water heater repair in Chicago, IL. with Eco Temp HVAC
If you ever have any issues with your water heater, ECO TEMP HVAC is always here to help. To assist you, we have a staff of licensed plumbers on call. With our emergency plumbing services, you can rest assured that you'll have hot water the following day, even if it breaks down tonight. Please let us know how we may be of service to you in Chicago and the surrounding areas.
To schedule water heater repair, call the Eco Temp HVAC experts at (224) 253-8131 or complete our online form.
Explore More Water Heater Options