Expert AC solutions you can count on.
Comfortable living is something that everyone appreciates. Now, you may already know that air conditioning has practical uses beyond making you feel good, but did you realize there are other advantages as well?
Cooling Services in Chicago, IL
It's easy to forget about the extreme winter cold when the weather warms up—all you'll want is a cool, cozy getaway! If your home is no longer a safe haven from the heat, give us a call to discuss your air conditioner replacement or repair needs. Since its inception, Eco Temp HVAC has become the go-to service for all things related to air conditioning, including installation, maintenance, and repair. Our high-quality products, skilled technicians, and exceptional customer service have earned us the title of Chicagoland's most dependable HVAC service provider. We provide:
3 Key Benefits of Air Conditioning
Humidity reduction
Air conditioning not only cools the air but also reduces humidity in your house. That's right! Using an air conditioner can help lower humidity in a room.
More so than extreme heat, it is high humidity that impedes your body's ability to cool down. This means that a regular air conditioner might not be powerful enough. Even if you have an air conditioner, you may still feel hot and sticky even when you're indoors. The high humidity levels are to blame for this.
Humidity control is a handy feature found in many modern air conditioners. You can think of humidity control as a dehumidifier for your entire home, similar to how central air conditioning works. To make it simpler to cool off on hot days, invest in a universal dehumidifier that can reduce humidity everywhere in your house.
Because you'll be able to cool off faster, you won't need to crank your air conditioner down to as low a temperature as possible. The result is a more efficient AC and lower monthly energy bills.
There are several benefits to having adequate humidity levels. It helps maintain a comfortable home temperature and prevents excess moisture damage to furniture and electronics.
Air purification
An air conditioner will not only remove the air moisture but also filter out dust and other allergens – which will then release them outside.
Because of this, the air quality has been vastly improved, making it safe for you to breathe normally. It's the end of your allergies, colds, and annoying coughs.
Air cooling
Central air conditioning can reduce the temperature of the air within your house. On sweltering summer days, when you just want to relax indoors instead of outside, this is a lifesaver!
An air conditioner can cool a room to almost any temperature you like, within reason. AC units are, therefore, a convenient way to control the temperature and humidity levels in a given space.
Providing Reliable AC Repair in Chicagoland
Eco Temp HVAC supplies Chicago and the surrounding areas with comprehensive cooling services. Your air conditioner is in good hands with our licensed technicians – whether you need pre-summer tune-up and maintenance or are experiencing an unexpected breakdown. We've been honored to help our neighbors and ensure that their air conditioners always work at peak efficiency, no matter how hot it gets outside.
Call Eco Temp HVAC at (224) 253-8131 for professional AC services you can rely on like our air conditioning repair, AC replacement and installation, and AC maintenance.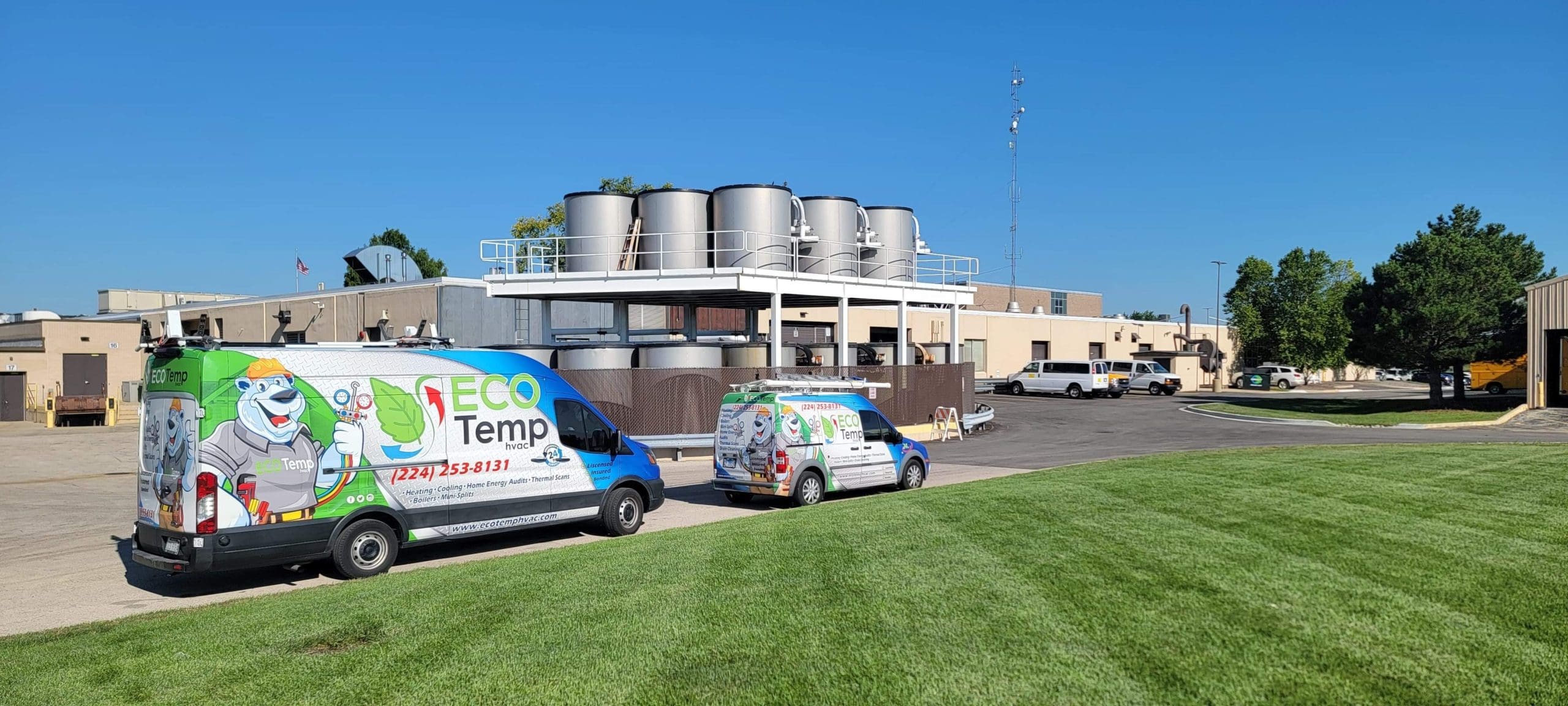 Simple and reliable AC installation
Unless you have previous experience or training as an HVAC expert, installing an AC unit is not something you should do on your own. One risks squandering time and resources without enough practice and training. That's why it's important to work with a reliable team of professionals that can install your air conditioner quickly and effectively.
Eco Temp HVAC has been providing this service for nearly a decade – and we have the awards and certifications to back our claim and to prove our dedication to our customers.
9 Signs you may need Immediate AC Repair or replacement
If your air conditioner isn't keeping up with the heat, contact the Eco Temp HVAC specialists right away. If not addressed promptly, small problems can grow into larger, more expensive ones. The following are signs it's time to contact your favorite Eco Temp HVAC technicians:
The AC will not turn on.
The AC is pumping hot air.
AC airflow is not sufficient.
The AC is generating strange or unsettling noises.
There are scents emanating from the AC or vents.
The AC is leaking excessive water.
The drain pan is either full or overflowing with water.
The outside unit has frozen.
The AC is short-cycling.
Don't put off dealing with any of the problems listed above. Call Eco Temp HVAC at (224) 253-8131 today to schedule your AC repair.
AC maintenance
When your home's air conditioning system is performing well, you may not give it much thought, but disregarding annual AC maintenance can lead to early system breakdown and costly repair and replacement costs. Eco Temp HVAC offers thorough maintenance services to help you stay on top of the maintenance needs for your home's cooling system. This can help to: 
Extend the lifespan of your AC unit
Lower the risk of up to 90% of all system failures
Reduce cooling costs by up to 50%
Cool your home twice as fast!
Eco Temp HVAC is the company to call for all of your AC service needs.
For nearly a decade, we have proudly provided HVAC services to the greater Chicago area. Our skilled technicians can swiftly and effectively diagnose and treat any problem. We will work with you to arrange a convenient time, during which we will do everything in our power to guarantee a job well done. Our employees have undergone drug testing and background checks, and we provide a worry-free guarantee on all of our services.
Trust the professional specialists at Eco Temp HVAC for all of your cooling needs in Chicago. Call (224) 253-8131 today to schedule your repair.
Explore More Air Conditioning Options