Ductless Air Conditioning & Heating
With rising awareness about air pollution and indoor air quality, nothing seems more vital than the ability to maintain a healthy environment in your house. However, it's not that easy to do so without installing the right ductless mini-split. Otherwise, the radical temperature changes are going to make your summers and winters dreadful.
While central air conditioning systems might be useful during these circumstances, not every building has ductwork. Small flats and home additions lacking ductwork require special heating and cooling solutions. Hence, the need for ductless mini-split systems arises.
Ductless mini-split systems have advanced significantly. Originally intended simply as cooling devices, they have evolved to become more adaptable over time.
In a broader sense, ductless mini-splits are a versatile option for many homes. They are extremely effective heating and cooling devices that can regulate temperatures in inaccessible spaces.
Split implies that the system still consists of an outdoor and an inside unit – as opposed to a "packaged" system which incorporates both the heating and cooling components into a single outdoor unit. The "mini" in "mini-split" refers to the fact that each unit (or "head") is considerably smaller than standard heating and cooling units.
Call (224) 253-8131 for an easy, breezy installation today!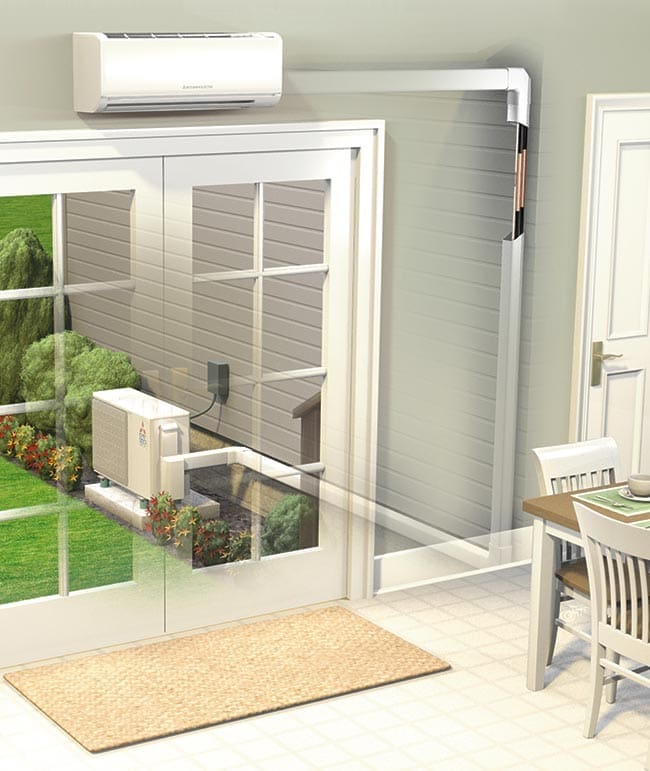 6 Benefits from the joys of living in the era of ductless systems!
Independent "zone" temperature control
In a traditional ducted HVAC system, the homeowner has minimal control over how warm or cool air moves around the building. Treated air travels through a labyrinth of ducts before reaching your different rooms, losing temperature along the way. Rooms are hotter or cooler than expected because a centrally situated thermostat determines when the intended temperature has been reached. Other factors, including room occupancy and personal tastes, cause many families to argue about the thermostat.
Enter the ductless mini-split AC. The system allows homeowners to individually manage the climate in each living space or "zone." Each air handler is assigned to a zone and can be programmed through remote control or, in most cases, via a smartphone or smart home hub. Depending on how many spaces you want to heat and cool, you'll want a single-zone, dual-zone, 3-zone, 4-zone, or 5-zone system when shopping for a mini-split. Multiple air handlers will link to a single condenser or heat pump placed outside in multi-zone systems.
Efficiency
Ductless mini-split AC saves much energy compared to traditional HVAC units. Over time, they consume less energy while still effectively heating and cooling the air. The seasonal energy efficiency ratio (SEER) is a standardized metric used to compare the efficiency of various HVAC systems. Seasonal energy efficiency ratio (SEER) measures how well a heating or cooling system operates during the hot and cold seasons.
Whisper-quiet performance
Ductless mini-split ACs are beneficial due to their space-saving design and quiet performance. Mini-splits use the low-and-slow approach, as opposed to the on-and-off cycling of typical HVAC systems, which can cause uncomfortable temperature swings and periods of intense air movement that may sound like a cyclone. After a mini-split AC has reached the set temperature, it will continue operating, albeit slowly and very quietly, to keep the space at that temperature. Our air handlers have a silent mode that operates at around 20 dB, about the volume of rustling leaves. Customers have been pleasantly surprised by the silent running of our mini-splits.
Two-in-one
Ductless mini-split AC systems, much like central air, are capable of both heating and cooling your home. Chicago homeowners will not need to switch between their space heaters and air conditioners during the year.
This saves time, energy, space, and money all year round. Plus, it makes the house look neater and less cluttered.
Higher-quality air
About 8% of children and over 9% of adults suffer from some form of respiratory allergy. Traditional HVAC systems and window AC units can make these allergies even worse.
Over time, multiple contaminants, such as dust, germs, and allergies, can accumulate in HVAC ducts. Each time you turn on the system, all of those toxins spread throughout your house.
Mold can thrive in unclean or humid conditions, making window AC systems a potential health hazard. When used, they contribute to the spread of allergens, including dust and mold spores. Therefore, allergies, asthma, and other respiratory disorders may become your new normal.
On the other hand, since ductless mini-split ACs do not collect mold and other airborne pollutants, they will not circulate inside your home. Some systems even have filters that may be used to clean the air in your house. Many families have found that installing ductless systems has improved their health.
Dehumidification
As far as ductless mini-split ACs are concerned, settings are limited to "LOW," "STANDARD," and "HIGH." Moisture removal is an important component of supplemental dehumidification; a dehumidifier is useful for maintaining relative humidity levels inside at or below 60% year round.. Mini-split systems can dry some of that extra moisture, especially during the warmer months.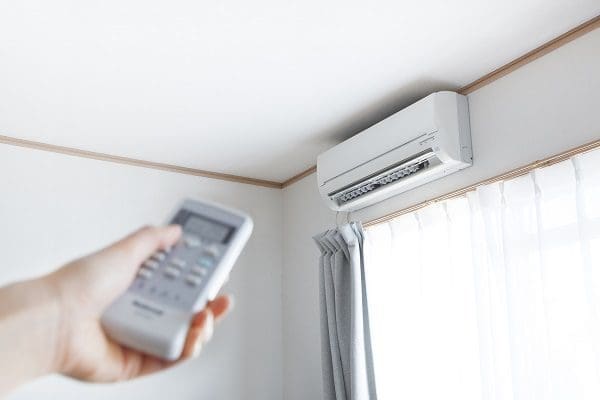 Handling all of your ductless mini-split AC installation, repair, and maintenance needs
Eco Temp HVAC is the company to call if you want a new ductless mini-split AC installed or if your current unit needs repair or maintenance. We provide a comprehensive range of ductless AC services in Chicago, Il, including new installation, repairs, replacement, and routine tune-ups. Our skilled and experienced experts use modern technology, as well as cutting-edge tools and equipment, to deliver excellent service every time.
Call us today to learn more about our ductless mini-split AC systems and services!
Regardless of which of our services you choose, you can rest assured that your project will be in good hands with Eco Temp HVAC. Pick up the phone and chat with one of our skilled call representatives to learn more about the benefits we provide. You may also receive your free project quote by filling out our simple online form.
Ductless mini-splits are becoming more widespread in our area, which is fantastic! After all, they are incredibly efficient, convenient in practically every way, and more effective than alternative heating and cooling systems. Call Eco Temp HVAC to discuss your ductless mini-split AC options in Chicago, Il. We offer:
24/7 emergency ductless mini-split repairs;

Exceptional "best in class" heating and cooling installation services;

Honesty, openness, and a 100% satisfaction guarantee on every job.
We can help you whether you need fast ductless mini-split repair or want to discuss whether a new one is best for your home.
Enjoy smooth and reliable Ductless Mini-Split AC installation in Chicago with Ecotemp.
Eco Temp HVAC is a full-service HVAC contractor that provides efficient installation of HVAC equipment in your homes, tailor-made to your needs. A ductless system is trustworthy, especially for old homes that have no room for ducts.
We make installation trouble-free for you by analyzing your room situation first-hand. A small 3-inch hole is made in the wall through which refrigerant tubes and electrical wires connect the indoor and outdoor units. Each unit is designed to have its separate thermostat.
If you need to install a ductless cooling system all throughout your home, don't worry! We know how to tactically place the HVAC units to yield maximum performance. The best way is to place one outdoor unit and link it to multiple indoor handlers in every desired room. 
For a smooth installation, get started now!
Get hassle-free repairs on your Ductless Mini-Split in Chicago with Ecotemp.
Do you hear odd noises from your ductless cooling system, and you feel it is not regulating enough heating and cooling? It means repairing your system is unavoidable, or else you will suffer raised utility bills.
Did you know that repairing your existing ductless mini-split system is one of our most-reliable services?
Yes! Our repairing services are available round the clock –24/7! Our repair team consists of skilled technicians who will reach your home quickly, and after evaluating your situation, they will start with the repairs.   
Contact us for emergency repair services today at (224) 253-8131.
Explore More HVAC Options