Selecting the right air conditioner
Whether you are upgrading an old AC or looking to install a new one, keeping your home cool during the summer heat is no simple task. Fortunately, your reliable Eco Temp HVAC professionals specialize in AC installation in Chicagoland.
What AC size do I need?
Before we begin any AC installation, we help our customers determine the right AC size. A unit that is too small can overwork the AC, resulting in failure to keep your home cool. Furthermore, overly large units drain your pockets through greater upfront expenses and higher energy costs. So, consider how successfully your AC kept you cool while trying to replace it.
We would help you find a more powerful replacement if it struggled to maintain a pleasant temperature. If your old model kept you cool but made your environment too humid, consider replacing it with a smaller model.
And if your old unit functioned perfectly (until it didn't), we will help you locate a matching model. However, if you are satisfied with your old AC, consider repairing it before making a new purchase. Schedule an appointment for AC repair with Eco Temp HVAC, and we will send a certified professional out to diagnose and fix your AC issues – we may be able to save you the cost of replacing your unit by doing so.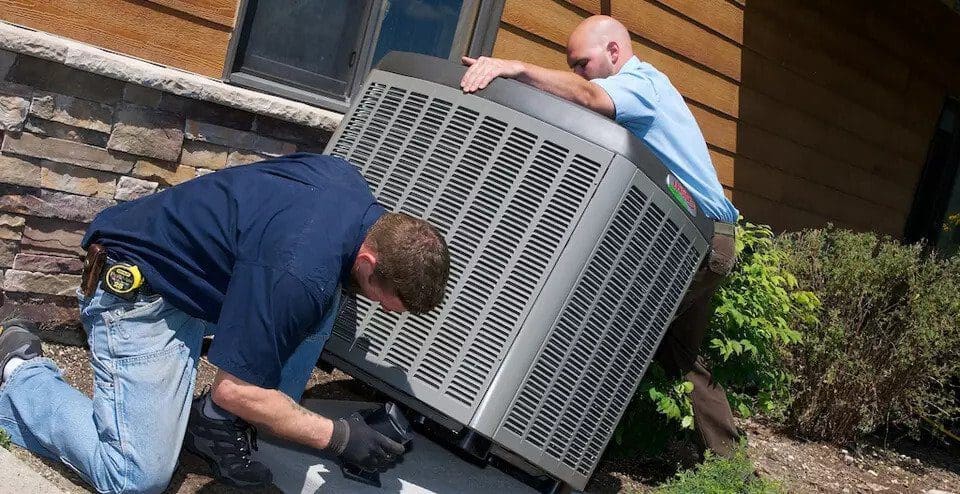 What type of AC do I need?
Central air conditioning is often the best option for Chicagoland residents. Ductless mini-split systems, on the other hand, open up a world of options by letting you keep multiple temperatures in different sections of your home. Whatever your AC needs, we will help you find the ideal solution to keep you comfortable.
Central Air Conditioning
Central air conditioning systems are ideal for single-family houses because they allow you to adjust the climate throughout your home from a single control panel. These systems normally feature an indoor AC unit, which is typically installed in an attic or basement, and an outdoor unit, on the ground near the residence or atop a flat roof.
The indoor AC unit cools warm air from outside and distributes it throughout your home through ducts. The outdoor unit allows the system to release excess heat to the outside world.
Central air conditioners have lower initial costs than alternative whole-house systems. However, this is only true for homes that already have ducting installed. If your property lacks ducts for heating or cooling, a ductless system may be a better option.
Mini-split systems
For a first-time AC installation, homeowners should select a mini-split system rather than a regular central AC. These systems have numerous indoor units, allowing you to independently chill different "zones" in your home. They also have an outdoor unit, as do all air conditioners, to allow warm air to escape.
Although these systems are more expensive up front, they are also more energy efficient than central air conditioners. Rather than sending cool air across your home from a central point, mini-splits cool your area from within each climate zone. As a result, they don't waste energy cooling your home's ductwork.
Mini-splits can also limit cooling to the regions of your home that need it by maintaining distinct climate zones. Why should you pay to keep your empty guest room cold?
We should also mention that mini-split systems, which have both heating and cooling abilities, keep you comfortable all year. Mini-splits allow you to save money on utilities from January to December whether you're building a new house or changing existing heating and AC systems.
With over 100 years of residential and commercial comfort experience, our staff can rigorously assess the demands of your space. We will present you with AC options that will meet your needs and budget once evaluated.
Why settle for anything less than the best when your comfort is at stake? For a free quote, call (224) 253-8131 today.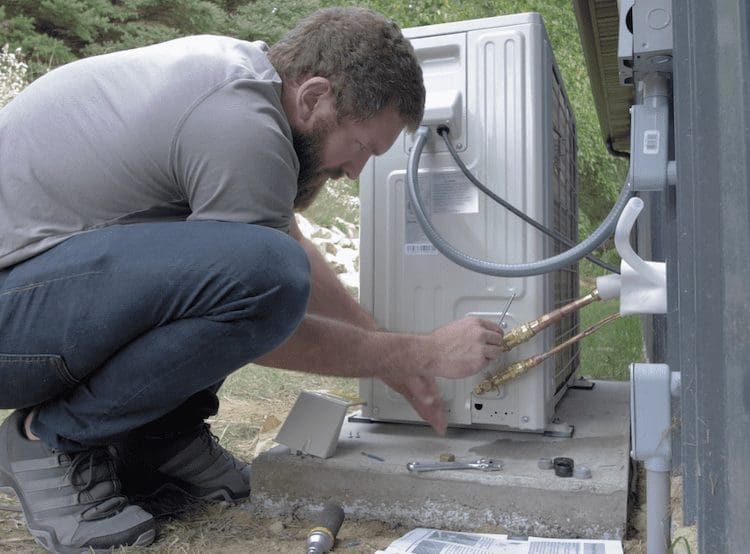 Working with Eco Temp HVAC
We may start your AC installation in your Chicagoland home once we have calculated your cooling needs and selected a properly sized unit. Our NATE-certified specialists will work swiftly and efficiently to get your new unit up and running in no time.
The AC installation process takes less than a day in most homes. However, if your home is very large or we need to adapt your area with additional ductwork or wiring, the procedure may extend into a second day. Residential AC installation rarely takes more than two days, but we are more concerned with having the work done well than with beating the clock.
For every AC installation in Chicagoland, our specialists take over 100 steps to ensure that the systems we install run as efficiently as possible. Other companies may complete the task faster, but they do so by cutting corners. As a result, the quick AC installation nearly invariably ends up being longer in the long term due to the necessity for more service calls.
When you work with Eco Temp HVAC, you know our main focus is always client service. We have been in business for nearly a decade, offering great service to each and every customer. We want to earn your business for life. So, whether you need an AC installation or any other type of HVAC service, rest assured that we will always go above and beyond to keep you comfortable.
Superior AC installation services
Eco Temp HVAC offers a wide range of high-quality products and services. Our technicians are here to help guide you through each phase of your AC installation in order to help you make the most informed decision for your needs and budget. In fact, the following are just a few of the numerous benefits that you may expect when you hire us:
Highly Trained Technicians: We take extraordinary measures to guarantee that every one of our technicians is up to speed on the latest installation methods in the industry.
24/7 service: We can provide you with 24/7 service at any time of day or night, including weekends and holidays (rules apply).
Lifetime Repair Guarantee: To provide you with the peace of mind you deserve, we back our products and services with a lifetime warranty.
Same-Day Service: We reduce the inconvenience of AC issues by finishing projects on the same day.
Request a Free Quote for Our AC Installation Services
Contact Eco Temp HVAC right away to learn more about our high-quality air conditioners and flawless installation services. Call us to talk with one of our highly trained specialists, or fill out our quick online form to get your free, no-obligation quote.