Trust Eco Temp HVAC for Dependable Boiler Installation.
Don't hesitate to get in touch with us today for a free estimate and pricing on a new boiler heating system.
Boiler Replacement: A homeowner should only purchase a new boiler every 10 to 15 years, so you must find the ideal boiler replacement for a warm and happy house, and here at Eco Temp HVAC, we are more than happy to help.
We love helping our customers, homeowners, and landlords alike – and at Eco Temp HVAC, we consider all of your replacement gas boiler options, from a direct swap to a complete back boiler conversion. We can pretty much arrange anything you desire and will help you along the process.
Water Boiler Installation: Choosing the Best Chicago Boiler Installer Is Important
Assume you decide to purchase a top-of-the-line boiler. That's fantastic. However, without the sophisticated skillset of an experienced installer managing the installation, you might as well have saved yourself the trouble of throwing your money down the drain. Simply put, the person who installs your new boiler is more valuable than the unit itself.
Replace the heater: Keeping your house cozy in the Chicagoland area throughout the winter entails using your heating system for extended periods of time. That is why you need to contact Eco Temp HVAC, the Chicago heating installation and replacement specialists. One of the most important things you can do when you need a new heating system is to have it installed by a professional.
Complete Chicago Boiler Installations. We provide the boiler installation solutions you need in as fast, effective, and high-quality a manner as possible.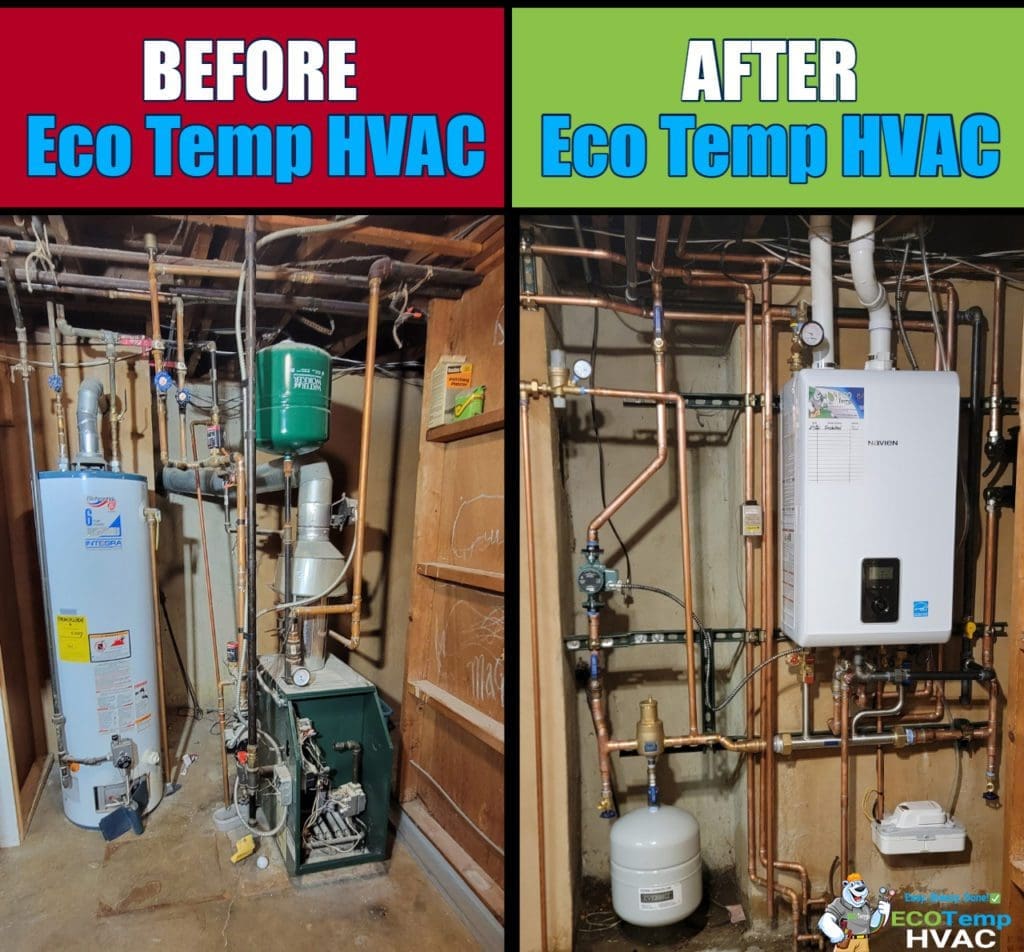 Boiler Installation
The Chicagoland area is full of ancient and magnificent homes, and many of them still use radiant heat as their primary heating system.
I have a Radiant boiler, so what now?
Radiant heating systems direct heat to the floor or panels inside the wall or ceiling of a house. The systems rely heavily on radiant heat transfer, which is the direct distribution of heat from a hot surface to people and things in the room via infrared radiation. Radiant heating is the sensation of warmth from a hot cooktop element from across the room. When radiant heating is installed in the floor, it is frequently referred to as "radiant floor heating" or simply "floor heating."
Radiant heating offers several benefits. Because it removes duct losses. It is typically more efficient than forced-air heating and more efficient than baseboard heating. People who suffer from allergies sometimes prefer radiant heat since it does not spread allergens like forced air systems. Hydronic (liquid-based) systems consume less electricity, which is beneficial for residences who are off the power grid or in locations with high electricity bills.
Traditional gas or oil-fired boilers, wood-fired boilers, solar water heaters, or a mix of these can all be used in hydronic systems to heat the liquid. As the heart of your radiant heat system, you need a high-efficiency boiler that provides dependable performance and guaranteed quality—exactly what you will find with Eco Temp HVAC. We can help you get the modern, efficient unit you need to improve the comfort of your home with our professional boiler installation services.
Professional Boilers Installation in the Chicagoland Area
As a reputable boiler installation company, Eco Temp HVAC only installs the best units on the market. We sell a variety of new and replacement boilers specially designed to satisfy the specific needs of Chicagoland residents by collaborating with leading manufacturers. You can also expect high-quality service from our installation technicians, and our team works promptly and efficiently to minimize your heating system's downtime.
You can expect your boiler installation service from Eco Temp HVAC to include the following:
Full-Service Support: We have extensive experience installing, repairing, and servicing many popular boiler models, allowing us to provide comprehensive solutions.
Certified Technicians: Our technicians receive extensive training and professional education, allowing them to do their job to the highest standards.
Long-Term Warranties: For your peace of mind, the products we install come with a six- or eight-year manufacturer warranty.
Begin by learning more about our boiler installation services!
Radiant heat's efficiency and comfort make it a popular choice for a wide range of local houses, and Eco Temp HVAC is the firm to call for skilled boiler service. Give us a call now if you'd like more information on the products and services we provide! You can also contact one of our experienced technicians by completing our online form right now.
Explore More Heating Options