We make Maintaining your heat easy.
When it comes to your home's comfort, you'll want to do everything in your power to protect your happiness and that of your family. Thanks to our professional team at Eco Temp HVAC, this has never been easier or more affordable. Our 10-year experience in the local heating and cooling industry has given high-quality HVAC products and services to a generation of Chicagoland homeowners and business owners, keeping them comfortable during the harsh temperatures of Chicago's winter and summer seasons. Our staff is a phone call away should you need any heating and cooling services in Chicago, Il or simply want a team member to assess the present state of your unit.
Fast and reliable furnace repairs
No matter where you live or what type of furnace you have, our professionals will be there before you say Chicago Bulls.
Furnace maintenance
We know that the worst parts of winter weather might sometimes be too much for any furnace. That's why we provide year-round, same-day furnace maintenance to keep your home and family warm. With no added fees for after-hours service, you'll fast realize that Eco Temp HVAC is the cost-effective, skilled service your home needs and deserves.
Check out our annual maintenance plan here!
Professional Furnace Repair Service
We provide local service as your preferred furnace maintenance business, no matter where you live in the Chicagoland area. Within two hours of receiving your call, one of our fully trained and licensed technicians will arrive at your home. Best of all, regardless of whether or not you bought your furnace from us, we can provide furnace repairs for any brand or model. Check out some of the additional benefits of doing business with us:
Professional and high-quality results

A business that delivers reliable and on-time service

Affordable pricing

Your convenience should never be compromised

Full HVAC services with one team
Furnace service and repair
Furnace issues can happen anytime; that's why identifying the early signs of furnace repair can make all the difference in the world. We provide furnace service and maintenance for all major brands, as well as installing new furnaces and proudly do furnace installation. We can confidently handle any furnace service and repair you need.
Air Conditioning service and repair
We understand how difficult Chicago summers can be, especially if your air conditioner is not performing as it should. Our HVAC licensed technicians have years of experience with air conditioning maintenance, repair, and installation. Chicagoland has relied on us for service and repair on all brands for nearly a decade.
Boiler service and repair
Whether you have a steam or hot water system, Eco Temp HVAC has the knowledge to handle any maintenance or repair needs you may have. If you suspect your boiler is having problems, don't delay. Our boiler repair professionals are experienced with a wide range of potential boiler issues and are available 24/7, day or night.
Indoor air quality
We are becoming more aware of the significance of indoor air quality than ever before. Having clean air in your house is vital for good health and happiness. Indoor air quality can help manage allergies, asthma, and other airborne diseases. We install air filters, humidifiers and dehumidifiers, and clean ducts, among other services.
Lasting solutions at competitive prices
We offer anything from air conditioning and furnace repairs and installs to extensive maintenance services!
Eco Temp HVAC offers a wide range of air conditioning systems to meet all of your cooling needs. We install and repair central AC systems, heat pumps, ductless mini-split systems, and much more! Call us now if you need heating installation, maintenance, or repair in Chicago, Il. To keep your system working properly, we provide 24/7 emergency repairs as well as annual maintenance contracts.
Call the Eco Temp HVAC specialists immediately if you're ready to start saving energy and lowering your electricity bills. We provide energy audits and installation services for a wide range of high-efficiency heating and cooling systems.
Plus, we provide commercial and industrial services such as energy management and HVAC installation, replacement, maintenance, and repairs.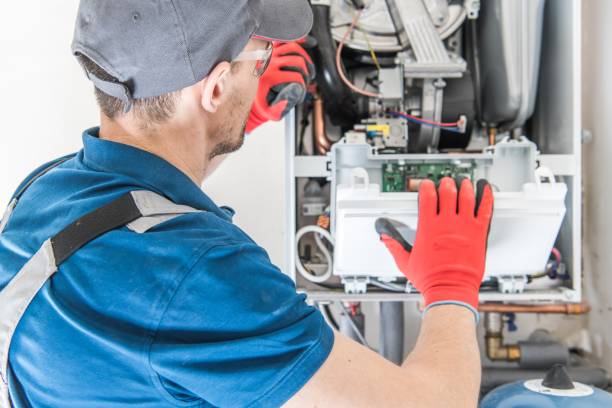 No job is too hard for our seasoned and certified technicians!
Eco Temp HVAC specializes in installing high-efficiency, ductless and ducted air conditioners as well as heat pump systems for residential applications.
We are an HVAC contractor service specializing in ductless air conditioning installation, repair, and maintenance for both new and existing systems.
What to expect when you hire Eco Temp HVAC
Owning a home comes with plenty of responsibilities, but worrying about your HVAC system should not be one of them. Finding the appropriate people to help reduce the stress of maintaining the crucial systems in your home is critical, which is where our team at Eco Temp HVAC comes in. Call Eco Temp HVAC, and we'll Keep your heating and cooling unit in good working order!
We have been in the HVAC repair business for many years and can gladly lend a helping hand if required. Hiring us will give you access to the following perks.
Maintenance plans that will save you money
Joining our team's regular maintenance plans is an easy way to save money. HVAC maintenance is perfect for detecting growing problems before they escalate, saving you time and money in the long run. Our experts will only recommend services and repairs imperative to optimal performance. Your comfort is our number one priority!
Fast and reliable heating and cooling repairs
For most Chicago homeowners, any HVAC repair must be completed as soon as possible. The longer you have to wait for AC repair, furnace repair, etc., the more difficult it will be to keep your home at a suitable temperature. Our skilled specialists will identify and solve the problem.
We Offer Convenient Financing
Due to wear or age, your present unit may sometimes need to be replaced; and it might not be that easy to come up with a big sum of money to purchase a new unit. We can arrange for special financing – if your credit is approved. Eco Temp HVAC has the flexible financing options and monthly payment plans you've been looking for.
Learn more about our Chicago furnace maintenance services
Never again will you have to wait for a long, expensive furnace repair service! Choose Eco Temp HVAC to take care of your furnace and provide a comfortable home at all times of day, night, and year. Call our helpful staff to request our services, or fill out our online form to receive a quotation today!
Explore More Heating Options