AC Maintenance for Maximum Performance
Maintain the peak performance of your AC system with our regular maintenance services.

AC Maintenance Services in Chicagoland by Eco Temp HVAC
Eco Temp Heating and Cooling provides AC maintenance services to ensure that your air conditioning unit is running properly and efficiently. Our AC maintenance services include a thorough inspection of your AC unit, cleaning of all components, and adjustment of air conditioning settings to fit your specific home. We also provide AC repair and replacement services. Our air conditioner maintenance services are available to residents in Chicagoland and the surrounding suburbs. AC units that are not regularly maintained can develop problems that lead to decreased efficiency and increased energy costs. In some cases, AC units that are not properly maintained can break down completely. Regular AC maintenance can help to prevent these problems and keep your air conditioning unit running smoothly. Contact Eco Temp Heating and Cooling today to schedule your next AC maintenance service.
Signs That Your Air Conditioner Needs Professional Maintenance
Inhibited Airflow
If the airflow from your ductwork is inhibited, this is a sign that you need AC maintenance as soon as possible. Inconsistent airflow often results from either clogged ducts or a defective condenser motor.
The condenser is usually to blame. It can't run consistently due to its lack of optimal powering. This causes the airflow to fluctuate over time, never completely cooling your home or business.
An AC maintenance technician will be able to detect the problem and then make any necessary repairs.
Leaking Refrigerant
The liquid the AC uses to produce cold air is known as a refrigerant – and your air conditioner will not function properly without it.
Have you noticed any refrigerant leaking from your air conditioner's coolant line (the little pipe that connects the AC's condenser to the inside of your home)? When confronted with physical damage or overall degeneration, it can produce leaks.
If you find any refrigerant leaks, contact an AC maintenance professional at Eco Temp HVAC as soon as possible. Your air conditioner will not work at peak efficiency until the leaking component is repaired or replaced.
Unusual noises
Grinding, creaking, and pounding sounds are all signs of an AC malfunction. If you hear any unusual noises coming from your air conditioner's condenser, give us a call, and we will fix it for you.
When a condenser makes sounds like this, a variety of things could be wrong. Most of the time, its internal components are damaged in some way. In other circumstances, something may be stuck inside.
Be that as it may, your AC system will not perform correctly until repairs are made.
Smokey aromas
Do you smell a smokey aroma coming from your AC? If that's the case, there's definitely something wrong with it.
Smoky odors usually suggest that something is wrong with the air conditioner's motor. In other circumstances, it could be due to poor wiring.
Again, calling in an AC repair specialist will help you determine the source of the problem. Your air conditioner may be repairable, or you may need to replace it entirely.
Extremely high energy bills
Have you recently noticed a significant spike in the cost of your energy bills? This could be due to multiple factors, but your AC is most likely to blame.
When an air conditioner's motor begins to fail, it needs even more energy to function properly. This extra energy consumption leads to substantially higher energy bills than in previous months.
Do not put up with excessive energy costs. Call in our repair specialists to provide proper AC maintenance.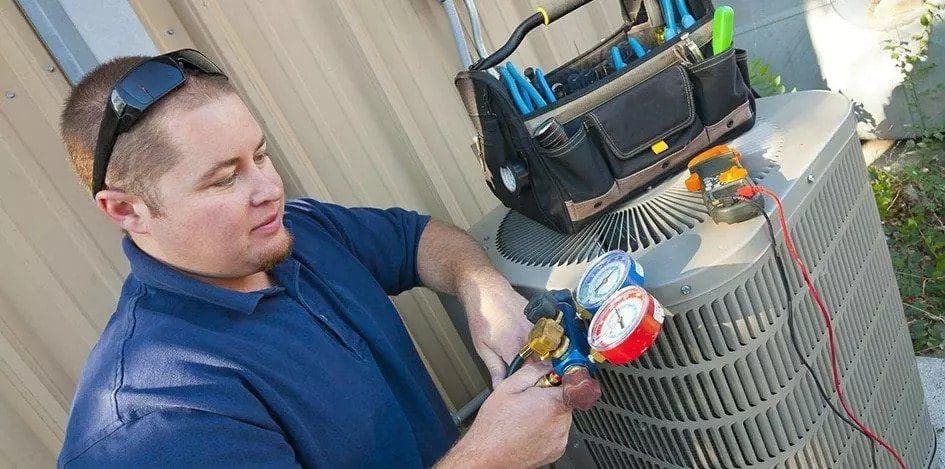 AC maintenance
When your home's AC system is performing well, you may not give it much thought, but disregarding annual AC maintenance can lead to early system breakdown and costly repair and replacement costs. Eco Temp HVAC offers comprehensive maintenance services to help you remain on top of your home's cooling system maintenance needs.
Increase your AC's lifespan.
Reduce the likelihood of up to 90% of all system failures.
Cut your cooling costs by up to 50%.
Cool your home twice as fast!
Expert HVAC Maintenance for Air Conditioning Systems
When it comes to getting the most out of your HVAC system, AC maintenance is critical, and our expert, trained team of specialists delivers the comprehensive support you need. We offer full-service solutions that meet your schedule and budget, whether you need more AC maintenance before the hot weather arrives or you want regular annual maintenance pre-scheduled with Eco Temp HVAC.
We never cut shortcuts as a trustworthy HVAC maintenance business during the maintenance procedure, and our skilled crews will:
Examine all system components, such as fans, electrical connections, thermostats, and so on.
Remove debris from the unit to decrease your home's system stress and cooling time.
Clean the AC system inside and out to keep it in good working order and to increase its lifespan.
Conduct a final operation test to guarantee your complete satisfaction and to lower the need for future repairs.
Provide regularly scheduled service so you know your AC system is always ready when needed.
AC repair services in Chicagoland
When it comes to AC repair, avoid companies that do not specialize in HVAC. At Eco Temp HVAC, we are honored to be Chicagoland's best HVAC system professionals. You deserve fast, hassle-free support from highly experienced specialists who will immediately fix your problems. Our team is here to help!
Have you noticed that your air conditioner isn't as cool or frigid as it used to be? Perhaps it's time for an upgrade! Call Eco Temp HVAC, and we'll get that system up and working again. You may relax knowing that our technicians are the best in their respective fields. They will inspect, diagnose, and discover any issues with your cooling system – so you don't have to!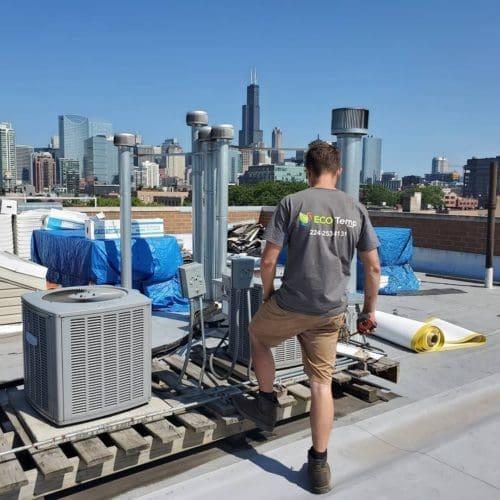 Ductless air conditioning
Ductless air conditioning units are becoming more popular with Chicago homeowners as they realize that there is an easier and greener way to cool their homes. Ductless AC units are becoming increasingly popular in Chicagoland as homeowners realize that there are more efficient and greener cooling systems. You do not have to sacrifice comfort or style when it comes time for an air conditioner replacement. Ductless Mini Split Systems are less intrusive than traditional window ACs and can easily provide the same relief!
Learn more about our Chicagoland AC maintenance service
If you need air conditioner service in Chicagoland, there is only one name to remember for prompt solutions backed by a quality guarantee—Eco Temp HVAC! Call us today for more information on our maintenance services, or fill out our online form today to request service and speak with one of our friendly experts.
Explore More Cooling Options