If you're a homeowner, then you know that there's always something that needs to be fixed or upgraded around the house. And if you're like most people, your HVAC system probably ranks pretty high up on the list of things you need to take care of. Luckily, though, most HVAC issues are pretty common and can be easily fixed if you know what to look for. So if you're curious about what some of the most common residential HVAC issues are and how to solve them, read on!
Your HVAC system is not only the most expensive but also the most utilized mechanical system in your home. Your furnace and AC ensure the comfort of you and your family and when they fail, it can be quite worrisome. Having knowledge of common issues within HVAC systems can help you know the next steps to take to resolve the issues! Here are the most common issues our customers experience.
Dirty or Old Filter Issue:
Are you experiencing lowered airflow or performance in your system? One of the most common issues that arise within HVAC systems is usually related to a filter that needs a little TLC. Depending on the type of filter your system has, resolving this issue can take various forms. Some filters need to be changed while other filters are washable. Researching your owner's manual can help you identify how to change or clean your filter.
Common Thermostat Issues:
In the time of smart thermostats and cloud-based home systems, thermostat issues are not unheard of. If your thermostat is a smart thermostat, start with ensuring that the unit is connected to the wifi. If that doesn't resolve the issue, the manufacturer will have a customer service line that can help you troubleshoot more technical issues, such as thermostat software updates.
For traditional thermostats, the battery is usually the culprit for thermostat issues. If changing the batter does not resolve the issue, then it may be time for a replacement. Feel free to call us at Eco Temp HVAC to book a thermostat replacement.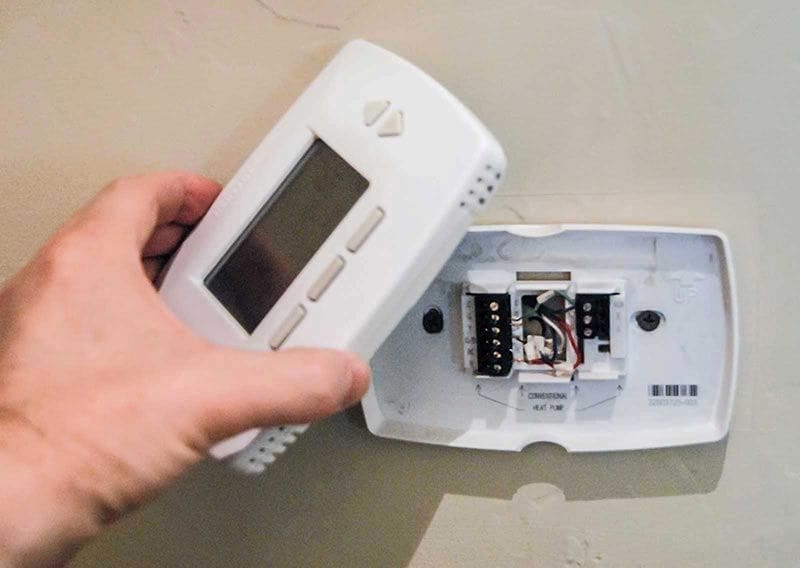 HVAC System Drainage/Leaking Issues:
Are you experiencing water leaking from your furnace/ac coil? Condensation is a normal part of a healthy HVAC system and there are systems in place to remove the condensation from your system. If one of these fails, you can experience water leaking from the coil and running down your furnace case, collecting in your furnace pan, or puddling on the floor. Causes for these leaks include a clog in the drain line, floor drain, or even your system freezing. Calling a professional, like EcoTemp HVAC, and resolve these issues and ensure damage to your system and home is limited.
Refrigerant Leaks:
Is your system blowing air but not cooling? Is there frost collecting on your furnace or the copper pipes leaving into your coil? These are all signs that your system is low on refrigerant. This is a vital part of your AC's cooling capability and low pressures can lead to system failures. Having your AC and furnace regularly maintained can catch issues, such as low refrigerant before they become an issue.
These are just a few of the most common HVAC issues that you may come across. If you're having trouble with your HVAC system, don't hesitate to contact Eco Temp HVAC. Our team of experts is ready and waiting to help you solve all your HVAC problems. Don't let these common issues get in the way of enjoying a comfortable home or office.
We at EcoTemp HVAC encourage all customers to get yearly maintenance to their furnaces and AC. Joining a program, like our yearly maintenance plan, can not only help your system function properly, but it can add years to the lifespan of your system!
If you need help with any of your HVAC needs at your home or office give us a call at (224) 253-8131 or fill out our online contact form today! With Ecotemp you know it's always "Easy. Breezy. Done!
"