Cut Repair Costs with Our Economical Priority+™ Membership
Although this program is designed to be affordable for North America homeowners, you'll also receive the most desired benefits of our other three plans. The pluses include a 15% discount on repairs and air purification products and systems, plus guaranteed 24/7/365 priority service.
Best of all, you'll never be responsible for a trip or overtime charge, ever.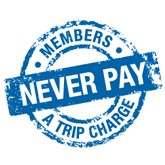 Spend Less on Heating and Cooling Repairs
As a Priority+ member, you'll have access to unique discounts that can save you hundreds on repairs. When your system needs to be fixed, charges can add up fast. You'll save 15%, plus you won't pay a trip charge or overtime charges.
Here's an estimate of how much you could save on some of our most frequent heating and cooling repairs in the North America area:
Standard blower motor—$553 member | $650 nonmember
Inducer assembly—$709 member | $834 nonmember
Hot surface ignitor—$240 member | $282 nonmember
Dual capacitor—$232 member | $273 nonmember
Outdoor fan motor—$627 member | $738 nonmember
Clean condensate pan and drain line—$103 member | $121 nonmember
Trip charge—$0 member | $99 nonmember
Overtime charges—$0 member | varies for nonmembers
Your system often malfunctions at the most inconvenient time, including at night, on the weekend or during a holiday. Those are also times when overtime charges typically apply. Not as a Priority+ member. Members never have to spend extra for after-hours service. In addition, you'll also have guaranteed priority service 24/7/365. In busy times, Service Experts Heating & Air Conditioning can experience hundreds of repair requests. As a valued member, you'll be our top priority, and our Experts will have your residence comfortable again quickly. All our professionals are known as Experts for a reason. That's because they've gone through detailed education to earn the greatest recognition in our industry. You can trust them to provide the greatest customer service and thorough repairs supported by a 100% satisfaction guarantee for a year.*
"Jordan was right on time, professional, courteous, and honest. He helped me understand more about my system and how to take care of it. I am becoming a Plus member because of his great service and Service Experts' great membership price."
-Kyle
Get Fresher Air Indoors for Less
It's not enough to have a well-serviced HVAC system. You also need to have good indoor air quality, since we spend up to 90% of our lives indoors. As modern houses are tightly insulated for energy insulation, the EPA says inside air can be three to five times more polluted than outside. That's because pollutants can get trapped and accumulate in your home.
We're making it easier for our Priority+ members to get better air with a 15% discount on indoor air filtration products and systems. Here's an estimated cost of how much you could save on some of our best-selling products:
MERV 11+ air filter—$171 member | $201 nonmember
Whole-home humidifier—$1,025 member | $1,206 nonmember
Charged media air cleaner—$470 member | $553 nonmember
But that's not it. Our Priority+ members also receive several other valuable benefits, like:
Yearly safety examinations
Lifetime thermostat warranty
Home Health™ Report Card and 29-point visual check on every visit
At no cost monthly, Priority+ is an excellent value that fits your budget. To start enjoying perks right away, reach us at 866-397-3787 to enroll.