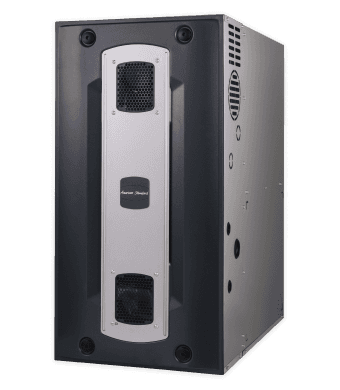 Platinum S8V2-C Furnace
What's include in the price
At Eco Temp HVAC, we believe in providing our customers with complete peace of mind and transparency when it comes to our pricing, so you can be confident that there are no hidden fees or surprises when you work with us.
Your Quote Includes:
Product Brochure
Get Free Estimate
Product features
This quiet, efficient furnace offers reliable performance with American Standard AccuLink™ Technology, ensuring you get the temperature you need with precision accuracy. Enjoy comfortable heating while using minimal energy costs.
Compatible communication technology
The Platinum S8V2-C Gas Furnace is precision-engineered for maximum performance, featuring American Standard AccuLink™ Communicating System technology. Homeowners can access real-time system monitoring and control settings, as well as receive notifications to ensure efficient and safe operation.
Reliable blower operation
Take control of your temperature year round with our exclusive Vortica™ II blower design. Enjoy quieter performance, consistent heating and cooling and the reliable temperature control you need, no matter the season.
Consistent warm air
Experience consistent warmth in your home with the American Standard S8V2-C Gas Furnace. Featuring a steady flow of warm air and advanced temperature control, this furnace ensures you'll never worry about uneven temperatures again.
Made to last
Experience efficient, long-lasting comfort with this robust furnace; its cabinet and components are designed for durability and to provide reliable performance for many years.
View Model Specifications
S8V2A040
3
Tonnage
Dimension
Shipping Weight
S8V2B060
4
Tonnage
Dimension
Shipping Weight
S8V2B080
4
Tonnage
Dimension
Shipping Weight
S8V2C080
5
Tonnage
Dimension
Shipping Weight
S8V2C100
5
Tonnage
Dimension
Shipping Weight
S8V2D120
5
Tonnage
Dimension
Shipping Weight
Our Installation Process
Getting Started Is Easy!
If you're looking for a tech-savvy company that will keep you in the loop, Eco Temp HVAC is the perfect choice. We use notification reminders to make sure you know when your appointment is, and we even provide a picture of your tech so you know who to expect. We make HVAC Easy, Breezy, Done!



Local Top-Rated HVAC Techs
Awards & Accreditations
You can always rely on us for top-quality services. We have a team of experienced and certified technicians who are dedicated to meeting your needs, no matter how big or small they may be! HVAC is a necessary part of every home, but sometimes it can be challenging to find someone who knows what they're doing. That's where we come in! We offer free quotes on all our services, so stop by or give us a call today and discover the ultimate comfort in your home once more, thanks to the pros at Eco Temp HVAC.