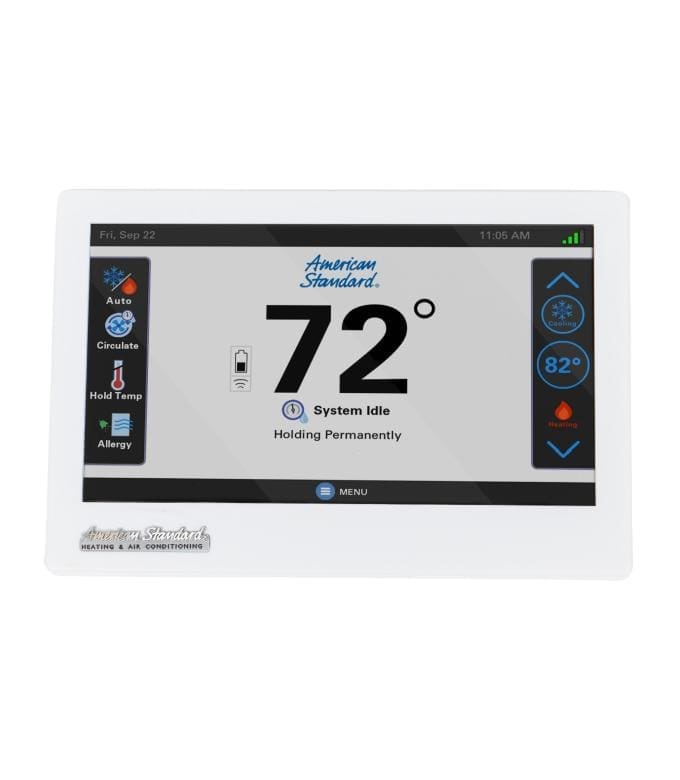 American Standard Link UX360
What's include in the price
At Eco Temp HVAC, we believe in providing our customers with complete peace of mind and transparency when it comes to our pricing, so you can be confident that there are no hidden fees or surprises when you work with us.
Your Quote Includes:
Product Brochure
Get Free Estimate
Product features
This smart thermostat allows you to adjust the temperature of your house from any web-enabled device.
Cooling Stages – 2
Heating Stages – 5
Smart Thermostat – Yes
Communicating – Yes
Z Wave Compatible – Yes
Screen – 7″ color touchscreen
Diagnostics – Yes
Programmable – Yes
Easy and convenient control
With American Standard® Link Communication technology, you can easily and conveniently control your smart thermostat. This cutting-edge communication system enables homeowners to control their thermostat from any web-enabled device.
Comes with a system controller
This smart thermostat not only has Link Communication, but it also has a system controller, which improves accuracy, maintenance, self-configuration, and other features.
Reminder alerts
Remembering when to maintain your HVAC system or change your air filter might be difficult. Fortunately, this smart thermostat has reminder alerts to notify you when your HVAC system need maintenance.
Features a built-in humidity sensor
It is critical to maintain appropriate humidity levels in your house, which is why the American Standard Link UX360 has a built-in humidity sensor that monitors and reports indoor humidity.
View Model Specifications
LINK-UX3
Tonnage
Dimension
Shipping Weight
Our Installation Process
Getting Started Is Easy!
If you're looking for a tech-savvy company that will keep you in the loop, Eco Temp HVAC is the perfect choice. We use notification reminders to make sure you know when your appointment is, and we even provide a picture of your tech so you know who to expect. We make HVAC Easy, Breezy, Done!



Local Top-Rated HVAC Techs
Awards & Accreditations
You can always rely on us for top-quality services. We have a team of experienced and certified technicians who are dedicated to meeting your needs, no matter how big or small they may be! HVAC is a necessary part of every home, but sometimes it can be challenging to find someone who knows what they're doing. That's where we come in! We offer free quotes on all our services, so stop by or give us a call today and discover the ultimate comfort in your home once more, thanks to the pros at Eco Temp HVAC.